Re-discovered William Powell Frith sells at auction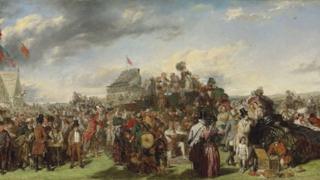 A lost William Powell Frith painting, which was found in a beach house, has sold for £505,250 setting a world record for the artist.
The work is an early version of Derby Day, a painting of an 1850s horse race.
It was hanging in an unlocked beach New England hut for 50 years, before a friend of the owner suggested it might be of some value.
An anonymous bidder won the piece on Thursday night, Christie's auction house said.
The anonymous vendor, now in his 60s, believes his parents bought the painting sometime before World War II, when Victorian art was not considered worthy by collectors.
Frith's completed version of Derby Day hangs at the Tate Britain gallery in London.
It was originally exhibited at the Royal Academy in 1858, where it became so popular a special rail was installed to hold back the crowds.
Frith's other famous works include Ramsgate Sands and The Railway Station.
He was best known for painting busy scenes of daily life, and his subjects ranged from beachgoers to railway stations to royal weddings.