Russell Brand to front US TV series for Fox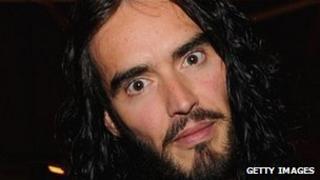 British comedian and actor Russell Brand has landed a TV series in the US, it has been announced.
The star will front a six-episode late-night series on Fox's sister channel, FX, beginning in the spring.
FX executive Nick Grad said the network was "excited" about working with Brand's "bracingly funny, original, and honest voice".
The Forgetting Sarah Marshall star will also co-create and voice an animated series for Fox.
Brand made his US breakthrough presenting the MTV awards in 2008, causing outrage when he branded then-President George W Bush "a retarded cowboy fella" who "wouldn't be trusted with scissors" in England.
Despite the controversy, he was asked back in 2009 and went on to score acting roles in Hollywood comedies like Forgetting Sarah Marshall and the recent remake of Dudley Moore's 1981 film, Arthur.
Mr Grad said the FX channel was looking forward to Brand his partner Troy Miller creating something "daring and unfiltered" for audiences.
In a statement, the channel said the show would feature Brand's "unvarnished, unfiltered take on current events, politics and pop culture", suggesting it will follow the format of his UK series Ponderland, which ran on Channel 4 from 2007 - 2008.
The FX Channel in the US is home to other shows such as The Shield, Nip/Tuck and Damages.
Its UK counterpart broadcasts shows from other US networks, including Dexter, The Walking Dead and Family Guy.
Brand began his career in the UK as a TV presenter and stand-up comedian.
He was sacked from his role as a presenter on the British MTV network when he turned up for work dressed as Osama bin Laden the day after the 11 September 2001 attacks.
Despite that, he went on to present a Big Brother spin-off show, before landing a role with the BBC as a radio DJ.
But his Radio 2 show came to an end following thousands of complaints over jokes he and Jonathan Ross made about veteran actor Andrew Sachs and his granddaughter.