Howard Stern lands America's Got Talent role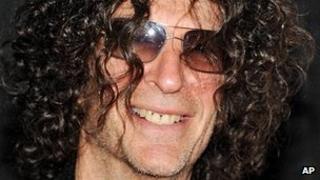 Controversial radio DJ Howard Stern is to replace Piers Morgan on the judging panel of America's Got Talent, it has been announced.
Stern, 57, who presents a daily radio show on Sirius XM, will join Howie Mandel and Sharon Osbourne on the team.
The star has vowed to give honest opinions and said it was likely that "feelings are going to be hurt".
An original "shock jock", Stern has often been in trouble for off-colour remarks and comic transgressions.
In 2004, he was dropped by media giant Clear Channel after it was fined for indecency.
Despite his sometimes offensive and often sexual language, the DJ says he does not deliberately set out to cause controversy.
"I'm not some desperate, out-of-control loser trying to outrage people to get ratings," he told Rolling Stone magazine in 1990.
"What the show's about is me trying to be funny, trying to tell the truth and trying to make a living."
America's Got Talent is made by the NBC network. Stern was employed by its now-defunt radio arm WNBC in the 1980s - where he was suspended for broadcasting a controversial skit in his first month.
He was later reinstated, but eventually fired by the network in 1985. Much of Private Parts, the 1997 film adaptation of his bestselling book, detailed the DJ's running battles with WNBC's managment.
Paul Telegdy, current president of NBC Television, defended his newest signing, saying his track record in broadcasting was "truly remarkable".
He added: "Howard Stern's larger-than-life personality will bring a thrilling new dynamic to America's Got Talent starting this summer."
Auditions for the reality show's seventh series began in October in major cities across the US.
During Stern's radio show on Thursday, the DJ said: "I am going to tell you [that] your kiddie has no talent. This nonsense of Howie and Sharon putting through less than talented people has got to stop.
"Under my administration, there will be no Frank Sinatra impersonators winning. I don't want to hurt anyone's feelings, but feelings are going to be hurt."
Production of the live broadcast of the show will relocate to New York to accommodate Stern's radio schedule.
Morgan left the show last season to concentrate on his weeknight interview program on CNN.
Last year, blues singer Michael Grimm was named the winner of the talent programme.