Captain America co-creator Joe Simon dies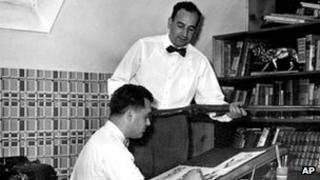 Comic book artist Joe Simon, who co-created Captain America, has died aged 98, his family have confirmed.
One of the most revered writers, artists and editors in the comic book industry, he worked alongside comic book legend Jack Kirby in the 1940s.
Together they created popular characters such as Newsboy Legion, the Boy Commandos and Blue Bolt.
Steve Saffel, who worked with Simon on his autobiography, paid tribute to the artist calling him "one of a kind".
"It was a privilege to know him and to call him my friend," he added.
'Superhero icons'
In an interview with news agency the Associated Press earlier this year, Simon explained where he and Kirby drew their inspiration for Captain America.
"Jack and I read the newspapers and knew what was going on over in Europe. And there he was - Adolf Hitler, with his ridiculous moustache, high-pitched ranting and goose-stepping followers.
"He was the perfect bad guy, much better than anything we could have made up, so what we needed was to create his ultimate counterpart."
Axel Alonso, editor in chief of Marvel, said: "Among many accomplishments in the comic book field, Joe Simon co-created one of the most enduring superhero icons - indeed, American icons - of the 20th Century.
"If there ever were a superhero who needed less explanation than the red, white and blue-clad Captain America, I've yet to see him."
Earlier this year a Hollywood movie, starring Chris Evans, Tommy Lee Jones and Dominic Cooper, based on Captain America was released.
The movie, Captain America: The First Avenger and credited Simon and Kirby as the character's creators, made over $368 million (£237m) at box offices across the world.