Professional MasterChef winner is crowned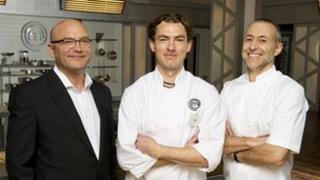 Australian chef Ash Mair has been crowned the winner of this year's MasterChef: The Professionals series.
The 34-year-old beat fellow finalists Steve Barringer and Claire Hutchings to take the prize in the BBC show.
Their final task was to cook for more than 30 Michelin star chefs and prepare a three-course meal for judges Michel Roux Junior and Gregg Wallace.
"When my name was announced as the winner I was in shock. I think I was hit with every emotion," Mair said.
The chef chose a starter of monkfish tail, a main course of lamb and a Spanish bread and butter pudding for his menu.
"Ash is a supreme talent. He pushes himself to the absolute limit, and always delivers," said Roux.
"Ash has got the gift, the gift of culinary genius. His food is outstanding."
Wallace agreed, saying the chef had "given me some of the best food I have ever tasted".
This series of Masterchef: The Professionals, which saw Sean Pertwee replace India Fisher as the show's narrator, has attracted an average of audience of more than three million viewers.
The popular show remained in a primetime evening slot, as opposed to the celebrity version of the show, which was moved to daytime TV earlier this year and was viewed by an audience of 1.04 million.