Q&A: Brit award winner Emeli Sande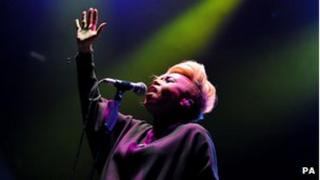 Scottish singer Emeli Sande has won the Brits Critics Choice award.
The prize is chosen by a panel of music experts, who select British music's brightest new hope for the next 12 months.
Sande has already had a flying start to her career, writing tracks for Cheryl Cole and The Saturdays, and scoring a top 10 hit with her debut single Heaven.
She spoke to the BBC after she learned about her Brit award.
When did you find out about the award?
I only found out last night. I'm on the road at the moment, supporting Coldplay, so we were backstage in Paris. It's amazing. Ginormous!
When you look at all the other people who have won this before - Adele, Jessie J and Florence and the Machine - how does that make you feel?
It's great to be part of a group of fantastic women. I dreamt of winning this award for such a long time, so it's very exciting.
There's a picture of you holding the award. Did you get to keep it?
No I had to give it back! I had about five minutes with it - which was incredible. I can't wait til February when I can put it on top of my piano. I've cleaned the space and that's where it goes!
That's the first time anyone's got to hold the new Brit trophy, designed by Sir Peter Blake. What did you think of it?
It's very different from what I imagined but I like it. He's such an iconic artist. I think the statue's really funky.
Coincidentally, your album comes out in February about a week before the Brits ceremony. What stage is it at?
Pretty much all done. We're making a few little tweaks but all the songs have been decided. We got it down to 11 or 12 tracks, from a shortlist of about 15. It was very painful getting rid of those last three, but I think we've found the ones that work together well.
Twelve tracks means quite a short running time. Why did you decide to make the album that length?
I wanted every track to be absolutely bang on the money. People should get to the end of the album and want to start again, and listen to it all over.
For people who hadn't heard about you before today's prize, how would you describe your style?
First off, I'm a songwriter. I put a lot of intention into my lyrics and that's the most important thing to me.
With that in mind, what was your debut single, Heaven, about?
It's about trying to become a better person. I think everyone is essentially trying to improve themselves but, like the lyric says, the day sometimes lasts too long and you get distracted from that goal.
How autobiographical is that?
I do wake up and I think, 'oh, what happened last night?' Then I try and make sure that doesn't happen again! Every day is a new start. Particularly when you're on tour.
How is the tour going? Was it hard to adapt to playing arenas?
It's a completely different feeling to the intimate shows I've been doing up to now. But it's a very fuzzy feeling. It's great to know that everything you're singing is being heard by thousands of people.
What was it like the first time you hear your music coming out of a sound system that big?
It's the loudest I've ever been! There's a moment in the set when I'm just sitting behind a piano singing. That's amazing.
Which song is that?
It's a track I wrote with Alicia Keys, called Hope. I opened up for her when she came to play the Royal Albert Hall. We kept in contact via email, and she asked if I'd come out and work with her in New York.
You've recorded a lot of collaborations - with Tinie Tempah, Chipmunk and now Alicia Keys. Who's left on your wish list?
I'd love to write a song for Stevie Wonder. I don't know if that will ever happen but that would be, wow, a life goal of mine. Songs In A Key Of Life is one of my favourite albums.
Who else was on the stereo when you were growing up?
A big one was Nina Simone, she was a big inspiration of mine. Another was Mariah Carey, I've loved her voice since I was five. Then people like Joni Mitchell - I love the great songwriters.
It feels like classic songwriting is making a bit of a comeback this year. If you look at Adele, for example, and your fellow Critics Choice nominee Michael Kiwanuka.
That can only be a great thing. I love Michael's songwriting. It feels like people want to hear "song songs" again, which is a great thing for me.
Finally, have you practiced your speech for the Brits ceremony?
No! I haven't done any of that stuff yet. I need to take a few days off at Christmas and really let everything that's happened this year sink in.
Emeli Sande was speaking to BBC entertainment reporter Mark Savage.