Elizabeth Taylor portrait by Andy Warhol makes $662,500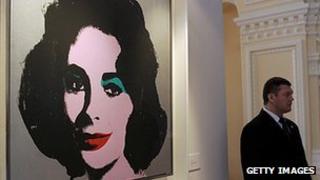 An Andy Warhol portrait of Dame Elizabeth Taylor has fetched $662,500 (£428,000) at an auction of the late actress's possessions in New York.
The 1964 lithograph by the pop artist was the top lot in the latest sale of the star's items held on Wednesday.
The gown worn by Dame Elizabeth for her second wedding to actor Richard Burton fetched more than $62,000 (£40,000).
Tuesday's sale of some of the Oscar winner's precious jewels commanded $116m (£74.9m).
The sale of the actress's collection of couture made more than $2.5m (£1.6m), with a Dior evening gown selling for $362,500 (£234,000).
Other items to exceed $100,000 (£64,625) included a Versace beaded bolero jacket emblazoned with Dame Elizabeth in some of her celebrated film roles.
Wednesday evening's sale of fashion wear made more than 10 times its original estimate and set a record for a couture auction, according to Christie's.
Auctioneer Andrea Fiuczynski said it had been an "extremely successful" sale, adding that Dame Elizabeth's cachet helped make the bidding highly competitive.
"There isn't any celebrity now who does everything she did," Ms Fiuczynski said.
The Warhol lithograph was signed in felt-tip pen by the artist, who died in 1987, with the dedication: "To Elizabeth with much love."
It is one of 12 portraits of the actress created by Warhol when she was recovering from a serious illness in the early 1960s.
One of them, created in different colours to the one owned by the actress, fetched $23.7m at auction in 2007 - the equivalent of £11.4m at the time.
Another, entitled Silver Liz, was sold for £6.7m at an auction in London last year.
A further two major auctions of the Taylor collection are taking place in New York this week, with the star's film memorabilia among the items on offer in Friday's sale.
Dame Elizabeth died at the age of 79 in March. Part of the proceeds of the auctions will go to The Elizabeth Taylor Aids Foundation, which she established in 1991.