Turner masterpiece among artefacts to leave the UK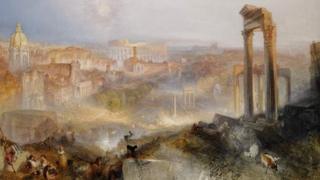 Treasures worth more than £65m will all leave the UK because funds could not be raised to save them from export, a government report has revealed.
Among them are significant works by Turner and Poussin, as well as a portrait of a young woman, said to be by Sir Peter Paul Rubens.
Museums and galleries failed to raise the money needed to save the items, despite a temporary export ban.
Four other items worth more than £3.7m were saved for the nation.
They included a 70kg, 18th century silver wine cooler, purchased for £2,073,648 and now on display at Temple Newsam in Leeds.
Also saved from export were:
A zodiac settle designed by the Victorian architect William Burges and painted by Henry Stacy Marks. Previously owned by Evelyn Waugh, it was purchased by the Cecil Higgins art gallery & Bedford museums for £800,000.
An oak cabinet on a stand made for the gothic novelist William Beckford, and purchased by the Beckford Tower Trust for £285,000 (plus VAT).
a lacquered Imari porcelain garniture, which had been destined for Dubai before the Ashmolean museum in Oxford raised £109,250 to retain it.
Culture minister Ed Vaizey said: "It is wonderful that these treasures have been saved for the nation... but I am of course disappointed that it has not been possible to save other important objects for the nation".
He blamed "turbulence in the global economy" for hampering efforts to raise the money needed to keep objects of historical significance in the country.
'Outstanding significance'
The Turner painting, Modern Rome - Campo Vaccino, was the artist's final work depicting the Italian capital. A similar Turner work is already in national ownership at the Tate.
The gallery's curator of 18th and 19th century art asked for the government to put a temporary hold on its export to the USA, saying it was of "outstanding significance for the study of Turner".
However, after three months, the committee which recommends a bar on exports said it had "not been made aware of any serious intention" to raise the £30m sum needed to match a bid for the painting by the J Paul Getty Museum in Los Angeles.
The other losses included a relief of Ugolino imprisoned with his sons and grandsons by Pierino da Vinci, now destined for Lichtenstein; an oil painting of St Peter's ordination by Nicolas Poussin, sold for £15m; and a family portrait by influential Dutch painter Franz Hals, which will go to the USA.
Rubens' Portrait of a Young Woman was valued, after some disagreement, at £1m but no-one came forward with matching funds. A painting by Jan de Bray called David and the Return of the Ark of the Covenant, and an Edward VI silver-gilt mounted tankard will also be exported.
A further three items assessed by the Reviewing Committee on the Export of Works of Art and Objects of Cultural Interest remain in the UK, after the application for export was withdrawn or refused.
Among these was The Virgin and Child, a painting by Luis de Morales, which had sold at auction for £1,645,868.
Culture secretary Jeremy Hunt said it was "disappointing" that some objects had had to leave the country, adding he was "keen to explore ways to improve on this".
In a foreword to the committee's report, he said he planned to move forward with proposals to penalise art owners who, having expressed a willingness to accept money to keep a work in the country, turned down such an offer at the last minute.