Antony Gormley unveils 'empty' sculpture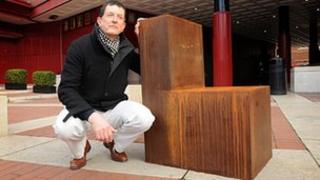 The British Library has unveiled sculptor Antony Gormley's latest work, which was commissioned by a charity that promotes the freedom to write.
To mark English Pen's 90th anniversary, Gormley's creation depicts an empty chair made out of metal.
The chair is a symbol used by the charity to represent writers in prison.
"This is a place of witness, cast in massive iron that will simply rest, isolated, for anyone or no-one to occupy," Gormley said.
The sculpture, named Witness, joins Sir Eduardo Paolozzi's Newton and another Gormley work, Planets, on the piazza in front of the British Library.
The charity holds an annual conference where an empty chair is always used to represent a writer who is unable to attend because they have been imprisoned, detained, threatened or killed.
"It will stand as tribute to, and reminder of, those writers who, because of censorship and tyranny, are not free to go to any library either in their countries or in ours, and at the same time recognises the work of Pen branches throughout the world in service of free expression," said English Pen's president Gillian Slovo.
Gormley is best known for creating The Angel Of The North.
The sculpture overlooks the A1 motorway in Gateshead and has become one of the UK's best-known pieces of public art since it was completed in 1998.