Puss In Boots tops UK film chart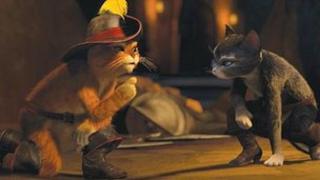 Shrek prequel Puss In Boots has topped the UK and Ireland box office in its opening weekend.
The 3D animation, which sees Spanish actor Antonio Banderas once again lend his voice to the swashbuckling feline, took £1.98m.
The film tells of Puss's adventures with sidekick Kitty Softpaws, voiced by Salma Hayek, before meeting Shrek.
It knocked last week's number one, seasonal movie Arthur Christmas, down to second place after taking £1.43m.
Romantic comedy New Year's Eve, featuring an all-star cast including Zac Efron, Sarah Jessica Parker, Ashton Kutcher and Hilary Swank, opened at three with £1.29m.
While Martin Scorsese's 3D film Hugo held firm at number four.
Animated sequel Happy Feet Two dropped to five in its second week of release with The Twilight Saga: Breaking Dawn - Part 1 at six bringing it's total box office haul to £28.8m.
Buddy comedy A Very Harold and Kumar 3D Christmas opened at number eight after screening at 131 cinemas - a little more than a quarter of those that screened Puss In Boots.
The only other new entry was sci-fi drama Another Planet at 10.
Meanwhile, Brad Pitt baseball film Moneyball - which it's thought will bag the actor some nominations in the forthcoming awards season - slipped down to 15 in the chart after three weeks of release.
The film has only grossed a total of £648,443 in the UK to date.