US box office hits three-year low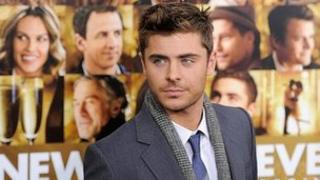 The US box office has suffered its lowest takings in three years, despite the pulling power of romantic comedy New Year's Eve's all-star cast.
The film, featuring the likes of Sarah Jessica Parker, Halle Berry, Robert De Niro and Ashton Kutcher debuted at number one with just $13.7m (£8.8m).
Jonah Hill comedy The Sitter opened at number two with just $10m (£6.4m).
The poor weekend leaves total box office revenues for 2011 about four percent down compared to last year.
"It's unbelievable how bad it is," said Hollywood.com analyst Paul Dergarabedian.
The last two weeks have been the lowest-performing at the US box office for the entire year.
Cinema-goers spent $77.4m (£49.5m) on tickets over the weekend, down from $81m (£52m) the previous week.
Reviews for New Year's Eve, a follow-up to box office hit Valentine's Day, were not kind.
The London Evening Standard said: "This is one of those unusual films that's more boring than life."
Time magazine added: "Neither nicely written, nor nicely acted nor nicely made."
The Twilight Saga: Breaking Dawn, Part 1 found itself in in third place with takings of $7.9m (£5.1m).
The fourth film in the vampire franchise has made around $260m (£167m) in the US so far.
Disney's The Muppets took fourth place for the weekend with $7.1m (£4.5m) and British comedy animation Arthur Christmas took the fifth spot with $6.6m (£4.2m). Its total earnings in the US now stand at $33.5m (£21.5m).
Next weekend sees the release of Hollywood's end-of-year blockbusters with Robert Downey Jr returning in Sherlock Holmes: A Game of Shadows and the family film Alvin and the Chipmunks: Chipwrecked.
Also on the horizon are Tom Cruise's Mission Impossible: Ghost Protocol and David Fincher's adaptation of The Girl With The Dragon Tattoo.