Robert Downey Jr, Sherlock Holmes and the sequel struggle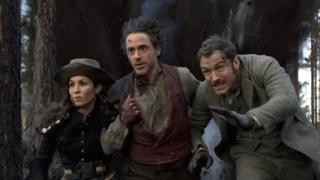 Sequels are notoriously difficult to get right, as Robert Downey Jr and Guy Ritchie discovered when they started filming Sherlock Holmes: A Game of Shadows.
Following up a successful film is a tricky business.
The temptation is to add more complex stories, bigger stunts, new locations and extra characters - but production time is cruelly condensed.
So for every Bourne Supremacy, there's a Matrix Reloaded - a confused, sprawling mess that diminishes the original.
Robert Downey Jr and director Guy Ritchie admit they nearly succumbed to the curse of the sequel on Sherlock Holmes: A Game Of Shadows.
"We were very conscious of all the pitfalls," says Downey Jr, while Ritchie admits: "It was an issue for us."
"About halfway through the movie we started feeling that we were branching out too far," the director continues, "so we made a concerted effort to make the story cleaner.
"Film-making is not a science. If your unconscious goes 'Oh mate, that sounds fishy,' it usually is."
It's unusual for anyone to admit to having problems with a movie they're promoting. But Ritchie doesn't approach film-making like other people.
"We rewrote it as we went," he says matter-of-factly.
"Of course we had a script, but both Robert and I feel that's just a good place to kick off from. You've got to try and trump it each day."
Newcomers to the cast, including Mad Men's Jared Harris, bore witness to the movie-makers' methods.
"It's kind of crazy," says the actor. "Everybody on the crew told me these guys had a strange way of working. It became a warning: 'You're going to panic but trust it, it's going to work.'"
Harris plays Holmes's urbane arch-enemy Professor Moriarty. Right from the beginning, he discovered how flexible the script could be.
"The first scene we shot was a 15-page sequence," he says. "I think I only said one line from the script we rehearsed. The whole thing changed."
Sacrifice
If the story for A Game Of Shadows was really made up on the fly, it is surprisingly straightforward and gripping: Holmes deduces the hidden connection between a handful of dastardly crimes in Europe and sets off in pursuit of their perpetrator.
Along for the ride is a reluctant, recently-married Watson (Jude Law) and gypsy fortune-teller Simza Heron (Noomi Rapace), whose brother is somehow implicated in the intrigue.
The backdrop is the mechanisation of warfare in the years before the Boer War... but the crux of the film is Holmes's potent relationship with his partner-in-solving-crime.
He sulks as Watson ties the knot, then gatecrashes the honeymoon (in drag, naturally), thrusting his trusted companion into the arms of danger.
"The film is about sacrifice for the sake of justice and friendship," says Downey Jr.
"In a way, the story is a little bit darker [than the first film]. There's a lot of loss in this movie.
"But that also meant that we had to have more laughs. We had to up the action a little bit so that you're paying attention."
The 46-year-old can now claim to be the star of two separate, ongoing film franchises - the first actor to do so since Harrison Ford held down jobs in Star Wars and Indiana Jones.
Sherlock will be followed by two films - The Avengers, featuring the character Iron Man among other superheroes, and Iron Man 3 - but Downey Jr doesn't mind that his schedule is full of sequels.
"It's all a blessing," he smiles. "There's nothing that annoys me more than fortunate people complaining about their situation.
"We have a really good time."
Indeed, the cast cannot stop talking about Downey Jr's rambunctious rapport with co-star Jude Law.
"They're like a married couple," laughs Ritchie. "I can't get enough of them, and I don't think the audience can, really."
"Do they ever need reining in? Actually, you have to encourage them!"
One star that did need holding back, however, was Noomi Rapace - who apparently retained some of her character traits from The Girl With The Dragon Tattoo.
"Every time we discussed the action scenes, she would say: 'Maybe I should slit his throat,'" recalls Ritchie.
"If I didn't keep a close eye on her, she would have slit people's throats at every given opportunity."
"I really liked my knives!" Rapace confesses. "I wanted to use them a lot more, but Guy was like: 'Calm down, Noomi!'"
Rapace says she was drawn to her tarot-reading role because the character wasn't simply a throwaway love interest.
"It's so much more fun to play someone with lots of layers," she says.
"She's tough and she's street smart and she can take care of herself, but she's still very emotional and fragile. There's so many things you can work on instead of being just the sweet, charming girl character."
Location, location, location
On screen, A Game Of Shadows takes Sim and Watson and Holmes all over Europe - but the production barely set foot outside the UK.
Greenwich stood in for Paris; Richmond Park became a European Gypsy camp; and the Welsh Valleys needed just a sprinkle of movie magic to become the Vosges mountains.
"The Bond franchises goes all over the place on location," says Downey Jr. "For us, it was just much more efficient to recreate those other countries.
"But if we have the sort of success that's being indicated by the early audiences' response to our second installation, the chances are we'll take our show on the road."
So does that mean part three is already in the pipeline?
"We're working with Warner Brothers," says the star. "This is the studio that did the Harry Potter franchise, so they're pretty good at this.
"But honestly it's up to the audience - what kind of dough this one makes, what kind of response we get.
"It's a democracy."
Sherlock Holmes: A Game Of Shadows is released on Friday, 16 December.