John Kinsella withdraws from TS Eliot Poetry Prize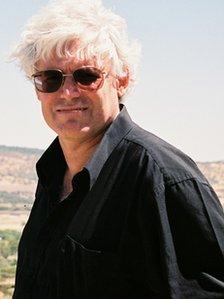 John Kinsella has become the second poet to withdraw from the TS Eliot Prize in protest over its sponsorship by investment firm, Aurum Funds.
The Australian, who was shortlisted for his collection Armour, said he was withdrawing on "ethical" grounds.
Prize organisers The Poetry Book Society made the deal after losing its public funding earlier this year.
Alice Oswald withdrew from the shortlist on Tuesday saying she felt "uncomfortable" with the sponsorship.
In a statement, Kinsella said he was grateful to his fellow poet "for bringing the sponsorship of the TS Eliot Prize to my attention".
"I regret that I must do this at a particularly difficult time for the Poetry Book Society (PBS), but the business of Aurum does not sit with my personal politics and ethics.
"I am grateful to everyone at the PBS for all they have done to promote my work and that of poetry in general."
PBS secured the three-year sponsorship deal after losing its funding from the Arts Council.
The prize money - £15,000 for the winner and £1,000 for each of those shortlisted - is donated by TS Eliot's widow, Valerie, and the late poet's estate.
Aurum's sponsorship money, which also supports four other charities, will go towards management costs.
Kinsella told The Bookseller he understood why the PBS looked elsewhere for funding, "but as an anti-capitalist in full-on form, that is my position".
He added he had difficulty with the general principle of having an investment company as a sponsor, saying: "Hedge funds are at the very pointy end of capitalism, if I can put it that way."
Poetry Book Society vice-chair Desmond Clarke defended Aurum's sponsorship, saying he respected the poets' decision to withdraw from the shortlist, but thought it was "misguided".
"For some time financial institutions such as Man, EFG and Duncan Lawrie, the private bank that supports Arvon, have sponsored prizes, literary festivals and competitions."
The two withdrawals leave poet laureate Carol Ann Duffy, John Burnside, Leontia Flynn, David Harsent, Esther Morgan, Daljit Nagra, Sean O'Brien and Bernard O'Donoghue still shortlisted for the prestigious prize.
The winner will be announced on 16 January at an awards ceremony in London.
Related Internet Links
The BBC is not responsible for the content of external sites.