Coronation Street musical to hit the stage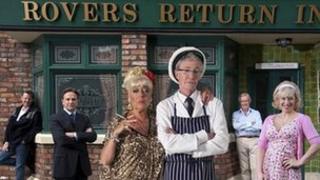 ITV soap Coronation Street is to be turned into an all-singing, all-dancing stage musical featuring some of the show's best-loved stars.
Julie Goodyear will reprise her role as Bet Lynch, while Kevin Kennedy, who played Curly Watts, and William Roache, AKA Ken Barlow, will also appear.
They will take part in song and dance routines with a West End-style chorus.
Paul O'Grady will narrate the show, titled Street Of Dreams, at the MEN Arena in Manchester on 21 and 22 March.
Fans will also see Brian Capron, who played serial killer Richard Hillman, and Katy Cavanagh, known for her role as Julie Carp.
The cast will perform songs based on famous scenes from the soap's 51-year history.
The tunes include Woman Stanley Woman, based on Hilda and Stan Ogden's second honeymoon, He's My Man, about a catfight between Elsie Tanner and Bet Lynch, and Norman Bates With A Briefcase, about Richard Hillman.
Former favourite characters such as Ena Sharples, Elsie Tanner and Hilda Ogden will be played by actors.
A 25-piece orchestra will provide the music, with the dance routines choreographed by Stephen Mear, who has won Olivier Awards for his work on the stage versions of Mary Poppins and Hello Dolly.
Coronation Street executive producer Kieran Roberts said it would be an "entertaining and spectacular musical celebration of Britain's best-loved drama".
Paul O'Grady, a life-long fan of the soap, said he had "chunks of script from 30 years ago engraved in my memory".
He added: "To relive it all alongside unforgettable characters and talent on the stage, revisiting such iconic scenes from across the years, is just brilliant. I can't wait to watch it all come together and the reaction it receives."
Street of Dreams comes a year after an unrelated stage show titled Corrie!, which condensed the soap's five decades into two hours.