Harry Potter actress Katie Leung lands debut stage role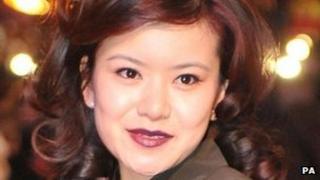 Harry Potter star Katie Leung, who played Cho Chang in the movie series, is to make her stage debut in the first theatre adaptation of bestseller Wild Swans.
The 24-year-old actress has landed the role of author Jung Chang in the production, which will open at the Young Vic in April.
The book tells the true story of three female generations of Chang's family.
Leung said it was a "great honour" to be cast in the production.
"I look forward to performing this truly inspirational story on stage," she added.
Published in 1991, the book has sold 13 million copies in 36 languages, making it the best-selling non-fiction book in British publishing history.
"To see Wild Swans on stage - transferred into another art form - will be fantastic. It feels great to know that my book is in such good hands," said Chang.
The new production will be directed by Sacha Wares, who directed the Olivier Award-winning Sucker Punch, which appeared at the Royal Court last year.
The play, which producers have worked on for four years, is being produced in collaboration with the American Repertory Theater in Massachusetts and the Actors Touring Company.
It will premiere in Massachusetts in February before coming to the UK.