Drift Away and In Crowd singer Dobie Gray dies at 71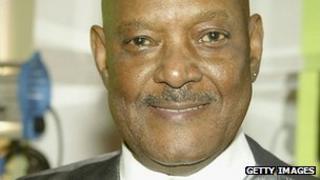 US soul singer Dobie Gray, best known for his hit 1973 song Drift Away, has died aged 71.
The news was announced on the singer's official website, although no cause of death was given.
Gray's only UK chart hit was The 'In' Crowd which peaked at number 25 in 1965.
Drift Away sold more than a million copies in the US and has since been covered by scores of artists including Rod Stewart and Michael Bolton.
Born near Houston to a family of sharecroppers, Gray, whose real name was Laurence Darrow Brown, discovered gospel music through his grandfather, a Baptist minister.
He moved to Los Angeles in the early 1960s where he met Sonny Bono - the then A&R manager for Specialty Records - who dubbed him Dobie Gray after the then popular sitcom The Many Loves of Dobie Gillis.
That encounter led to his first single, Look At Me, which was released in 1963 but was not a chart hit, but follow-up The 'In' Crowd shot him to fame.
Gray released 14 singles over his career spanning four decades during which he created and performed soul, country and pop music.
He spent some time in musical theatre, appearing in the Los Angeles production of Hair in the 1970s.
Most recently, Detroit rocker Uncle Kracker covered Drift Away in 2003 in collaboration with Gray.
It reached number nine on the Billboard Hot 100 and topped the adult contemporary chart for a record-setting 28 weeks.
Uncle Kracker paid tribute to the singer, tweeting: "My heart goes out to Dobie's family this evening. RIP Dobie Gray. Thank you for the music. You will not be forgotten."