Barbara Orbison, widow of Roy Orbison, dies aged 61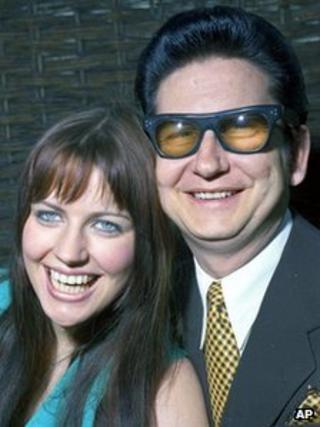 Barbara Orbison, the widow and manager of rock n' roll pioneer Roy Orbison, has died of pancreatic cancer aged 61.
A family spokeswoman said she died at a Los Angeles medical centre on Tuesday - the 23rd anniversary of her husband's death.
Since the 1980s, Orbison devoted her time to managing her husband's estate and keeping his legacy alive.
In January 2010 she also accepted a star on the Hollywood Walk of Fame on his behalf.
With her son, Roy Kelton Orbison Jr, she co-produced a four-CD box set of her husband's 107 recordings which was released in 2008.
The package marked the first all-inclusive body of Roy Orbison's work from his earliest recordings to his last live performance.
Roy Orbison died of a heart attack in 1988 at the age of 52, in the midst of a comeback with supergroup The Traveling Wilburys.
Barbara Orbison was also the head of the Nashville, Tennessee-based music publishing company Still Working Music.
In 2010 it was awarded BMI's Song of the Year for Taylor Swift's You Belong With Me.
Lisa Swayze, family friend and widow of late actor Patrick Swayze, said her heart went out to the Orbison family.
"Patrick and I always had a warm connection with them both. Now we have lost this wonderful lady," she said.
Barbara met her husband in 1968 when she was 17 years old and Orbison was 32. They married nine months later.
The spokeswoman said Orbison will be buried next to her husband at Westwood Village Memorial Park in Los Angeles.
Orbison is survived by her sons Wesley Orbison, Roy Kelton Orbison Jr and Alexander Orbison.