Adele concert rider leaked online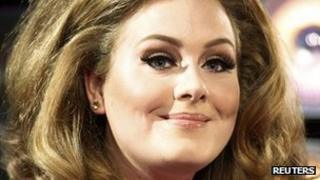 US beer is off the menu and free tickets are forbidden, according to British singer Adele's backstage rider, a US website has reported.
The list of tour demands stipulates that guests with complimentary tickets must donate money to Sands, a UK charity that supports bereaved parents.
"There will be no exception to this rule," says the document, which was leaked on The Smoking Gun website.
A spokesman from Adele's record company has declined to comment.
According to the three-page document, Adele requires tea, honey and bottled water before a show.
But venues must also provide wine and "best quality European lager" for her personal tour bus. To drive the point home, the document adds in bold italics, "North American beer is NOT acceptable".
The rider also informs US promoters that the 23-year-old's recent UK and European tour raised $13,000 (£8,328) from donations made by guests.
A spokeswoman from Sands confirmed that the organisation had received various donations from the singer.
"We are extremely grateful and we're very privileged to have been chosen as one of Adele's charities," she said.
Other requirements listed by Adele's tour manager include a dressing room with heating and air conditioning "to maintain an ambient temperature of 20C", a selection of fruit but "no citrus fruit" and six cereal bars in "individual wrappers".
The star also insists on having a pack of Marlboro Lights, a lighter, six metal teaspoons, and a range of chewing gum at every venue on her tour.
Last week, it was announced that the singer had been nominated for six Grammys, including song and record of the year, for Rolling in the Deep, and best album, for 21.
In October, the star cancelled all her remaining gigs and public appearances for the year before undergoing surgery to remove a benign polyp from her throat.