Obituary: Elizabeth Jane Howard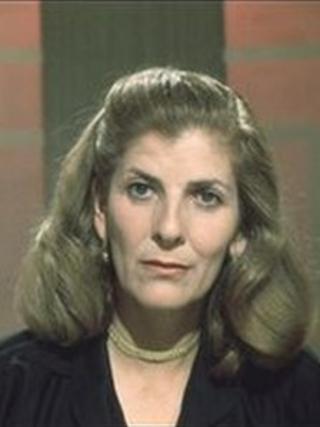 Elizabeth Jane Howard was universally acclaimed as an elegant writer with a witty insight into middle-class relationships, manners and mores.
She wrote 14 best-selling novels, many more television plays, books on food and numerous articles on travel and gardening.
Yet she spent just two terms at school and possessed no academic qualifications.
Elizabeth Jane Howard was born in London on 26 March, 1923.
Her father was a director of the family-owned timber company but spent most of his time shooting, sailing and chasing women, much to the chagrin of her mother, who had left a promising position at The Ballet Rambert for marriage.
Spectacular debut
Howard felt her mother never loved her, a sentiment her brother Colin agreed with.
"Mother quite obviously preferred her sons," he once said, "and couldn't see anything good about Jane".
"I said once, after reading one of Jane's novels, 'I think she does write rather beautifully', and mother replied, 'It's a pity she doesn't have anything to write about'."
When she first attended school at the age of eight, Howard was bullied. She left soon afterwards and, from then on, was educated at home by the same governess who had taught her mother.
Having decided to become an actress, she worked in theatre at Stratford-upon-Avon but left shortly after the outbreak of World War II.
She began writing professionally in the late 1940s, not long after her first marriage, aged 19, to the naturalist, Sir Peter Scott, by whom she had her only child, Nicola.
This was the first of three marriages, her third, and longest, being to the author Sir Kingsley Amis.
A noted beauty, she left Scott (who was 13 years her senior) in 1947 after she had a series of affairs.
She lived apart from her daughter, who she described as "a beautiful stranger", spending her time in a London flat where she attracted the attention of a series of lovers.
"Frisky was quite popular in those days," she later told BBC Radio 4. "Wars always make people pretty unfaithful, because they feel this might be their last chance."
In 1950, Howard made a spectacular entry onto the literary scene by winning the prestigious John Llewellyn Memorial Prize for her first novel, The Beautiful Visit, the story of a young girl on the cusp of adulthood.
She continued to write throughout the 1950s, even publishing a collection of ghost stories with Robert Aickman, but for a long time she avoided delving into her own troubled childhood for material.
"You lay the autobiographical stuff down like wine," she said later.
Her writing was acclaimed for its technique as well as for its evocative scenes, deftly teasing out the tensions and secrets between spouses, parents and children.
By the 1960s, her novels After Julius and Something in Disguise were being adapted as television plays, for which Howard also wrote the scripts.
She met Sir Kingsley in 1962, when she was organising the Cheltenham Literary Festival and the couple were hailed as the perfect literary partnership. Both, it later emerged, even writing sections of each other's books.
He wrote her exquisite love letters and a series of poems in which she appeared as a fairytale princess.
In the long term, however, Howard's writing suffered during their marriage, and she referred to their relationship as "my second fiddle period".
"I really couldn't write very much when I was married to him because I had a very large household to keep up," she told The Guardian in 2013, "and Kingsley wasn't one to boil an egg, if you know what I mean."
The couple parted acrimoniously in 1983, after 15 years together. In her 2002 autobiography, Slipstream, she described how he turned to drink, and how his bullying frightened her.
A novel to be studied
The marriage ended just as her career took an upturn, with the 1982 novel Getting It Right, about the sexual awakening of a shy young male hairdresser, for which she also wrote the film script.
She served on several literary prize committees including the Somerset Maugham, Whitbread and Booker.
However, she later took exception to what she termed the "clique-iness" of the literary in-crowd whom she felt were marginalising her work and labelling her old-fashioned.
"The cliques have had to become very powerful because there is so much less space in the papers for books now. They do help keep people at the top," she said in 1991.
But her greatest achievement came that same decade, with the five-volume Cazalet series, tracing the story of an upper-middle-class family told during the war-years and up to the 1950s.
She drew on her upbringing as source material: Home Place, the large house to which the Cazalet clan decamp during the war, is the house owned by Howard's grandparents in which she spent much of her childhood; two of the characters (Edward and Villy) are based loosely on her mother and father.
The first four novels were written in a single five-year burst of creativity in the 1990s. The final instalment, All Change, was published in 2013.
Speaking to the Telegraph last year, she said she regretted the gap between the fourth and fifth book, calling it "absolute hell from a continuity point of view".
"You keep on having to remember what you called someone's chauffeur 15 years ago," she explained. "It's quite hard work, that."
But she kept to a strict routine, telling the newspaper she always clocked off after lunch.
"That's about all I can do," she said. "By five o'clock, I haven't got much left in me. I can read, and sew, and I can watch ghastly television. I don't see Downton Abbey - I don't sink that low. But I like detective programmes, and anything about animals."
Her later work was among her most acclaimed. Falling, published in 1999, was described in the Independent as "a novel which ought to be studied by all budding writers for its structure, characterisation and that inimitable sense of knowing exactly what not to disclose... It is completely unputdownable".
She was awarded a CBE in the 2000 Queen's Birthday Honours, and continued to write until her death "after a short illness" at home in Suffolk on 2 January, 2014.