Kung Fu Panda 2 leads Annie Award nods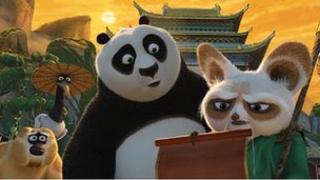 Kung Fu Panda 2 has scored 12 nominations at the 39th annual Annie Awards, which honours the year's best animation.
The sequel to the hit 2008 film landed nods for best animated feature as well as voice acting nominations for Gary Oldman and James Hong.
Shrek prequel Puss in Boots and Johnny Depp voiced Rango both received the next most nominations with nine.
The awards will be handed out at a Los Angeles ceremony on 4 February.
Puss in Boots and Rango are also part of the 10 films up for best animated feature along with Arthur Christmas, Cars 2, Rio and Tintin.
Three smaller European films are also in the running - A Cat in Paris, Arrugas and Chico and Rita.
Disney and Pixar films were also well-represented a year after they withdrew from the International Animated Film Society (IAFS) - which presents the awards - over concerns about the judging process.
Pixar's Cars 2 received seven nominations while Disney's Winnie the Pooh received eight.
Other British talent nominated included Ashley Jensen and Bill Nighy for their roles in Arthur Christmas.
While Steven Moffat, Edgar Wright and Joe Cornish earned a nod for best writing in a feature for Steven Spielberg's Tintin: The Secret of the Unicorn.
British made animation Chuggington, which is broadcast on CBeebies, also scored a nomination for best pre-school animated television production.
The winner of the best animated feature award is often an indicator of the film likely to win the best animated feature Oscar.
However last year's Oscar winner, Toy Story 3, missed out on the top AIFS award which instead went to How To Train Your Dragon.