Hubert Sumlin, famed blues guitarist, dies at 80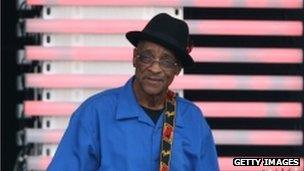 Blues guitarist Hubert Sumlin, who played with Howlin' Wolf and inspired the likes of Eric Clapton, has died at the age of 80.
He was with Howlin' Wolf for the best part of 20 years - his guitar can be heard on tracks such as the 1956 hit, Smokestack Lightnin'.
Clapton and Rolling Stone Keith Richards appeared on one of Sumlin's solo albums, About Them Shoes, in 2004.
Richards called him "a gentleman of the first order".
He said in a statement: "With sorrow I received the news of Hubert's passing. He put up a long hard fight. To me he was an uncle and a teacher and all the guitar players must feel the same as myself.
"Warm, humorous and always encouraging, he was a gentleman of the first order."
Stones frontman Mick Jagger called him an "incisive yet delicate blues player".
Sumlin was inducted into the Blues Foundation Hall of Fame in 2008.
He was recently included in Rolling Stone magazine's list of the 100 greatest guitarists of all time.
Sumlin was born in 1931 in Mississippi but was raised in Arkansas.
He met Howlin' Wolf as a teenager after sneaking into one of the blues legends gigs. They first recorded together in 1953.
Three tracks written and arranged by Chicago blues musician Willie Dixon appeared on Howlin' Wolf's self-titled 1962 album.
Back Door Man, Spoonful and The Red Rooster became more famous later on when they were covered by The Doors, Cream and the Rolling Stones respectively.
Critic Greil Marcus described the Howlin' Wolf album as "the finest of all Chicago blues albums".
Sumlin and Howlin' Wolf collaborated until the singer's death in 1976.
In a 1989 magazine interview, Sumlin said: "Hubert was Wolf, Wolf was Hubert. I got to where I knew what he wanted before he asked for it, because I could feel the man."
Jimi Hendrix was reportedly an admirer of Sumlin - he was said to have been influenced by Sumlin's use of distortion on recordings from the late 1950s.
The news of Sumlin's death was announced on his official website by his manager and friend, Toni Ann Mamary.
"Our dear friends… it is with a heavy heart that the worse has come to fruition. My little Hubert is living the life of a real angel. I'm overwhelmed with grief and so I really need to pull myself together," she wrote.
"I'll spend the rest of my days loving and cherishing all you are and were to me."
Related Internet Links
The BBC is not responsible for the content of external sites.