Profile: Turner Prize winner Martin Boyce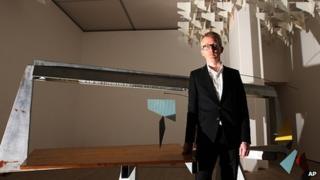 Sculptor Martin Boyce, the third Turner Prize winner in a row to emerge from Glasgow, says he tries to capture the beauty in unloved everyday places.
With Boyce's Turner triumph, those billing Glasgow as the second city of the British art scene may be doing the Scottish city a disservice.
Boyce studied at the Glasgow School of Art in the late 1980s alongside Douglas Gordon, who went on to win the Turner in 1996. Richard Wright, the winner two years ago, also studied there, as did Simon Starling, who won in 2005.
Last year's victor Susan Philipsz hails from the city, while Karla Black, another of this year's nominees, also studied there.
"My closest friends are artists, some of whom have been through this, some of whom haven't," Boyce says of the Turner Prize process. "Glasgow's a very small, closed community."
But he rejects the notion of a defined Glaswegian art movement.
"They're just artists," he says. "They're not all Scottish, some of them are just based in Glasgow. We've long since ceased to think of art as a geographical thing. We all exhibit all over the world."
Boyce has gained recognition for a project that began when he represented Scotland at the Venice Biennale in 2009, continued at the Galerie Eva Presenhuber in Zurich last year (the show for which he was awarded the Turner) and ended up at the Baltic in Gateshead for the Turner nominees' group show.
The series has seen him transform galleries into alternative realities filled with objects that are familiar yet skewed.
Litter bins are lopsided. Rusting benches take on irregular shapes. Trees are square. Leaves with brutally straightened edges litter the floor. Sharp, haphazard letters of the alphabet cascade down the walls.
Virtually everything is made with straight lines and angles, with no organic curves.
Speaking after the Turner win, Boyce said he was interested in creating an atmosphere and examining the relationship between the psychological landscape and the physical landscape.
He said his work looked at "the things that we pass through every day and occasionally catch a glimpse of, and maybe see something that has a meaningful resonance", adding: "I guess the work is to amplify those moments."
Asked about his fascination with objects from public spaces like parks, he said it was about "hope" and finding "the beauty in the abject".
"Often it's abandoned landscapes or these more abject landscapes that appeal to me because in a very particular moment in a particular light you can see something beautiful in them, and that interests me," he says.
"It's a collapse of nature and architecture," he adds - a favourite phrase when explaining his art.
Boyce is heavily informed by work by Modernist pioneers. Four concrete trees made for a Modernist garden by French twins Joel and Jan Martel in 1925 were a particular influence.
The re-engineered library desk on show at the Baltic, entitled Do Words Have Voices, is inspired by similar designs by Jean Prouve from the 1950s.
Tate Britain director Dr Penelope Curtis, who chaired this year's judging panel, said the judges had admired Boyce for more than a decade, but that the Zurich show demonstrated "a new, more poetical direction".
He was already a "very serious artist in terms of the way he thought about the legacy of Modernism and what it means for artists now", she said.
But the Zurich show was "more atmospheric, more evocative". She added: "He was not only making references to the past but he was also creating a totally new atmosphere."
'Powerful atmosphere'
Godfrey Worsdale, director of the Baltic gallery, who was also one of the judges, said Boyce had led the way among artists who were revisiting modern design.
"He creates a very powerful atmosphere but he makes very physical objects that you can really relate to," Mr Worsdale said. "So in a way I think he's a complete artist - he has such a breadth of practice but it's so beautifully coherent."
Boyce's work is not likely to stir controversy in the way that other Turner winners did - such as Martin Creed's light turning on and off or Damien Hirst's halved cow in formaldehyde.
However, the Daily Mail did indulge in what Boyce describes as a "here we go again moment" when it cast a cynical eye over his litter bin in October.
But Boyce believes that, after 27 years, the prominence of the Turner Prize has helped most people accept contemporary art, even if they may not all totally understand it.
"Even if people don't care about art, they still know it's art," he says. "I think the Turner Prize has been part of that process that has allowed people, whether they like it or are interested in art... they know it's art, and that's a big step."