Gary Barlow concert: Fan worship and surprising guests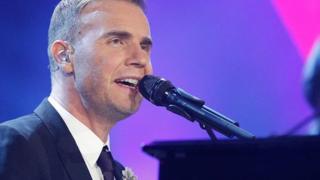 Fan worship and surprising guests marked Gary Barlow's Royal Albert Hall gig, billed as his first UK solo show in more than 11 years.
"Have we got some really old school fans here?" asks Barlow, three songs into the first of two charity concerts for The Prince's Trust and The Foundation of Prince William and Prince Harry.
He talks about Take That's early days adding: "Then Robbie left. Then we split up. Then I released [1997 solo album] Open Road.
"Then I released [1999 flop album] Twelve Months, Eleven Days and it was so successful that I decided to have seven years off.
"Then we came back. And then Rob joined us again," he says prompting the more hardcore fans to boo.
"None of that, it's Christmas," Barlow retorts.
Those fans presumably still remember Robbie Williams' cruel jibes when he was top of the pops and Barlow was out in the musical wilderness after being dropped by his record label.
But Barlow, who has the audience in the palm of his hand from the opening chords of Take That number one Greatest Day, doesn't need anyone's sympathy.
1997 solo hit Open Road stands the test of time surprisingly well but it is not until old Take That favourites Million Love Songs and Pray that the opening momentum is built upon.
He delights the crowd with a tongue-in-cheek rendition of the Pray dance routine - a ridiculous sight when performed solo by the band's least natural dancer.
Barlow, who splits his time between the piano and standing out front, gives confident performances in a trio of big band numbers - Under My Skin, Fly Me to the Moon and Van Morrison's Moon Dance.
Had not Williams beaten him to it with 2001 album Swing When You're Winning - complete with memorable Royal Albert Hall performance - Barlow might have found a niche here.
"This is from my new album Swing When You're Thinning," Barlow jokes.
Intimate venue
The biggest reception of the first half, though, comes when he's back on the more familiar ground of Barlow the balladeer.
An exquisite medley featuring just the man and his piano includes Take That songs I'd Wait For Life, Love Ain't Here Anymore and Why Can't I Wake Up With You as well as solo tracks Lie To Me and Forever Love.
Such intimacy is a highlight of a concert that gives fans the rare chance to see their hero in a relatively small venue compared with Take That's usual stadium gigs.
Indeed Barlow takes his life into his own hands in the second half when he walks right through the crowd - accompanied by far too few security guards - attempting to sing Everything Changes as he does so.
The surge of middle-aged ladies struggling to touch their hero means he may choose to stay on stage at Tuesday's night's concert, which will be watched by the Duke and Duchess of Cambridge.
Aside from fan worship, the second half is dominated by collaborations and classic Take That songs.
Lulu manages to reinstate some of the allure lost by her stint on Strictly Come Dancing as she helps Barlow to deliver a rousing Relight My Fire.
The strangest moment of the night comes when, completely out of the blue, Barlow introduces Lulu' s fellow Strictly contestant Jason Donovan to the stage to sing Too Many Broken Hearts.
Confused audience members give Donovan the warmest of welcomes.
Continuing the Saturday night TV theme, X Factor judge Barlow also invites former runner-up Olly Murs onto the stage.
Murs sings Shine at least as well as Mark Owen in a performance that is impossible not to be drawn into.
It offers a reminder that Murs had a certain energy before he took on his now trademark cod-reggae sound.
The most memorable performances of the night come from Take That mark two songs Patience and Rule The World, a reminder that Barlow's songwriting gifts, like his looks, have improved with age.
Barlow's live band is effectively the same bunch of musicians who make up Take That's backing group.
Which means that many of the performances sound almost identical to those given by Take That on recent tours.
But with better backing vocals.
This triumphant show is not without fault.
Performing Reach Out - an album track on the reformed Take That's 2006 album Beautiful World - as the second track of the night is a strange choice.
Similarly, opening the second half with two lesser-known early Take That album tracks - jazz-funk song Sunday to Saturday, followed by Wasting My Time - is odd.
But this is a forgiving crowd and all of Barlow's compositions are received warmly.
And the finest works by the most successful songwriter of his generation are greeted with the rapture they deserve.