Lars von Trier wins best movie at European film awards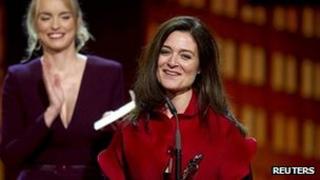 Science fiction drama Melancholia, directed by Lars von Trier, was named best movie at this year's European Film Awards in Berlin.
But the film-maker, who recently vowed to stop speaking publicly after he was criticised for making comments about Hitler, did not collect the prize.
The Danish director sent his wife Bente Froge, who said: "I should say from Lars that he has no statement for you."
There were also prizes for Stephen Frears, Colin Firth and Tilda Swinton.
Awards haul
Von Trier was expelled from the Cannes Film Festival in May after he told a press conference he sympathised with Hitler.
In October, he announced he would refrain from speaking in public, after he was questioned by police over his comments.
Speaking on stage Ms Froge told the crowd that her husband would not be picking up the prize because of his vow of silence.
"I should say from Lars that he has no statement for you. But he did ask that I should wave to you in a kind and gentle way," the Guardian reported she said.
The movie, which stars Kirsten Dunst, also won best cinematography and production design.
Firth added to his awards haul for his starring role in The King's Speech, walking away with best actor.
The King's Speech, which was directed by Tom Hooper, was also named the winner of this year's people choice award.
British actress Swinton won her best actress prize for her starring role in We Need To Talk about Kevin, based on the award-winning book of the same name, by Lionel Shriver.
The award for the best short film went to Terry Gilliam for The Wholly Family, the director's 20-minute fantasy about a boy's adventures in Naples.
British director Stephen Frears, best known for making The Queen, High Fidelity and Dangerous Liaisons, was presented with the lifetime achievement award.
"This is a great honour and I'll try not to take it too seriously," he said.
"The truth is, I'm everything you don't approve of. I'm not an auteur and I don't write the scripts. I'm just a bloke who makes films and hopes the audience likes them."