What is it about sensitive boys with guitars?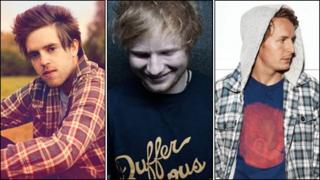 While you weren't looking, a bunch of sensitive young boys with acoustic guitars came and took over the music industry. Who are they and what do they want?
Ed Sheeran is not happy.
Three weeks ago, the Official Charts Company announced that the 20-year-old had scored the second biggest-selling debut album of the year, with Jessie J in first place.
"2011 hasn't ended yet!" he protests. "We're heading into the four biggest weeks for album sales of the year - and I'm only 80,000 off taking the number one."
Actually, the sales gap is slightly bigger - about 180,000 - but Sheeran is still snapping at Jessie J's 10-inch heels.
It's all the more impressive because Sheeran's album came out six months after his rival's - and, let's be honest, his media profile is much, much lower.
Instead, his fanbase comes from live shows. Hundreds and hundreds of them.
And he's not alone. There's a whole raft of sensitive boys with acoustic guitars, strumming their way into teenagers' hearts in a town hall near you.
Talkative audiences
Among them is Ben Howard, a self-taught, left-handed guitarist with a dreamadelic line of folk-pop.
His debut album Every Kingdom quietly crept into the top 10 last month, helped along by his extensive touring schedule.
"The first time I ever played in front of other people was an open mic night in town, when I was about 16," he recalls.
"It was two days before Christmas, when everyone comes home from work or university and goes to the pub.
"I just remember it being absolute carnage - absolutely packed - and me trying to play a little nylon guitar and love songs. It went down like a lead balloon."
Since then, however, audiences have been more respectful of his intricate, acoustic performances.
"Generally the people at the shows have been music lovers, so we've been fortunate and privileged," he says. "It's always tough when people are chatty. You have to try hard not to get offended by that."
Adding to his live reputation, Howard caused a stir this summer with the whimsical video to his single Keep Your Head Up - in which he builds a gigantic water slide out of plastic bags and bales of hay.
"The whole idea was to take the mickey out of ourselves because we'd really got pigeon-holed in the serious singer-songwriter category," he says.
The video went viral, but success came with a price. "I had bruises everywhere, like you wouldn't believe," Howard winces.
"I don't bruise easily but my arms were black. My bum and my back were just ruined.
"We had a tour afterwards, and we were a total mess for the whole thing."
Record deal
Like Ed Sheeran, who signed to Atlantic after a string of independently-released EPs, Howard recently inked a deal with Island.
But the singer maintains the record label is "just helping us reach out".
"As an artist these days, you've got to be very conscious of what direction you want to take," he says. "You've got to be the driving force."
"I'm working with good people who like my music. All that means is I can carry on doing what I want to do."
Howard's friend and contemporary Benjamin Francis Leftwich, however, is taking a different path.
With his manager, he has formed his own record label, and happily gives away MP3s, cover versions and EPs to his fans.
"I'd prefer it if we could give everything away for free," he says. "I don't think it makes any difference. I want people to hear my music."
His most popular tracks - Atlas Hands and Pictures - have an understated simplicity, with recurring references to nature and the ocean.
"There's something really nice about being by the sea," says the singer, wistfully.
"The artwork for the album is loosely based around the coast around my home in Yorkshire - Robin Hood's Bay and Whitby and things like that. I miss home a lot when I'm not there."
Leftwich increasingly finds himself on the road, dragging his battered guitar with him. But being based outside London's music industry gives him a different perspective on the current wave of acoustic troubadours.
"I don't feel part of any scene," he says. "This is just what I'm doing.
"I don't think it's healthy for the media to talk about a 'new wave' of male singer-songwriters because people like Ryan Adams have been doing it for years.
"Everyone's just doing their own thing."
Despite Leftwich's protestations, there is definitely something going on.
Having achieved success under the radar, these artists (and female counterparts like Laura Marling and Alela Diane) are providing a popular alternative to the tinnitus buzz of the top 10.
Their lyrics are unassuming, romantic and environmentally-aware, a mirror of their fans' own lives.
Even when Ed Sheeran incorporates hip-hop beats and discusses teenage pregnancy and homelessness, he does so with the sympathetic patter of a mate down the pub.
Of them all, he is the most successful (he drops a massive hint about a five-night residency in a London venue next year) but Sheeran denies having a gameplan.
"I think the fanbase was a mix between me doing tours with Example and Just Jack, and releasing EPs every three months so people always had new material to listen to," he explains.
"I think it's interacting with fans on Twitter and Facebook, having my own website, sending out my own T-shirts and literally going to the merchandise stand after every single gig and selling people CDs."
But Sheeran says the key to his popularity - and this goes for Howard and Leftwich, too - is image. Because, with tousled ginger hair and scruffy clothes, Ed Sheeran doesn't look like a 21st Century pop icon.
"I'm not a very glamorous person," he says. "I look like your brother's mate that turns up round your house and never changes his hoodie.
"I think people are into real musicians nowadays, rather than the glitz and glamour.
"They want to see their mates make it, not S Club 7."