New York City Opera talks with unions end in stalemate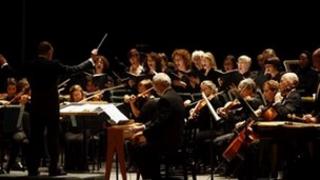 The New York City Opera (NYCO) has declared a stalemate with unions in contract talks over pay and conditions.
The company threatened to present its forthcoming season without its regular musicians, saying it would go ahead "one way or another".
The unions responded by saying they may strike and asked the public to boycott buying tickets and withhold donations.
The NYCO says it needs to cut its performers' pay to save it from financial ruin.
The dispute has been ongoing since the spring and the company has axed some 42% of its administrative staff, claiming deficits of $44m (£28m) over the past decade.
Typically presenting 12-16 operas with a peak of about 130 performances in a season before it hit financial troubles, in July the company announced it was cutting four operas from its spring 2012 schedule.
Strike action
With talks failing to come to an agreement, the NYCO implemented a contract it proposed in October paying musicians the same hourly rates they earned last year, but only for hours worked, instead of guaranteeing some 22 weeks of income.
"We need to pay them for the work we need - we can't afford to pay them when they don't work," said George Steel, the company's general manager.
He said the company had made its "final financial offer," but added: "If they want to come to the table and talk about our offer, we'd be delighted."
Unions said the new contract would essentially turn performers into freelancers, earning a fraction of what they made last year.
The performers had offered to work for no pay in return for year-round medical benefits but the NYCO refused, saying the unions ignored "the opera's financial situation and demanded huge guarantees for work that won't be realised, wage increases and full-year health coverage for mere weeks of work".
Both the American Guild of Musical Artists (AGMA) and American Federation of Musicians (AFM) have voted to authorise strike action, and said they will file an unfair labour practice charge with the National Labor Relations Board over the new work rules.
"You need to be aware that every dollar that you contribute to City Opera is being wasted," Alan Gordon, national executive director of the AGMA, wrote to patrons in an open letter, urging them to withhold their donations to the company in support.
He added without an agreement, performers would strike and the New York City Opera would become "an itinerant, small-scale opera company, performing in bizarre venues with volunteer and student singers".
The NYCO's new season is due to begin with La Traviata at the Brooklyn Academy of Music on 12 February.