Martin Scorsese new film Hugo wins first award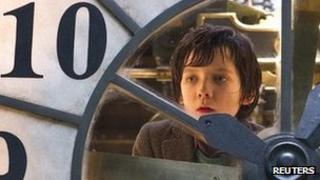 Martin Scorsese's 3D family tale Hugo has been named best film by the National Board of Review in the US.
The Oscar-winning moviemaker was also chosen as best director by the group.
Tilda Swinton won best actress for her role in gritty drama We Need To Talk About Kevin, with George Clooney taking best actor for The Descendants.
The NBR, made up of film historians, student and academics, was established in 1909 and is one of the first groups to select its picks for awards season.
Silent film The Artist, which was named best movie by the New York Critics Circle earlier this week, was among the NBR's roll call of favourites.
Violent thriller Drive, the final Harry Potter instalment and George Clooney's The Ides of March were also among the NBR's top 10 of the year.
'Visually stunning'
As well as Clooney's best acting trophy, The Descendants won best screenplay and best supporting actress for Shailene Woodley.
Best supporting actor was awarded to 81-year-old Christopher Plummer for his performance as a dying man awakening to his homosexuality in Beginners.
Other winners included Iranian drama A Separation for best foreign language film, while Michael Fassbender was given a special acting award for his roles in four films during 2011, including Jane Eyre and X-Men: First Class.
The cast of civil rights era drama The Help were awarded the best ensemble prize.
NBR president Annie Schulof hailed Scorsese's Hugo as "a personal film" touching upon cinema's early years, using cutting edge technology.
"It is visually stunning and emotionally engaging," she added.
The NBR has gone on to choose the eventual winner of the Academy Award for best film on a number of occasions.
But last year the organisation chose Facebook movie The Social Network over The King's Speech, which triumphed at the Oscars.
The NBR's annual awards gala is due to take place in New York on 12 January.