Nicanor Parra awarded Cervantes Prize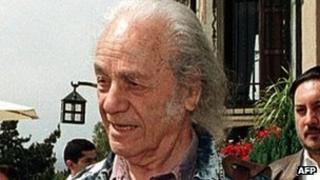 Chilean poet Nicanor Parra has won the Cervantes Prize, the Spanish-speaking world's highest literary honour, it has been announced.
The prestigious plaudit comes with a cash award of 125,000 euros (£107,000).
The prize, which was announced in Madrid by Spanish Culture Minister Angeles Gonzalez-Sinde, honours a writer's body of work.
Parra, now aged 97, is considered one of the most important poets of Spanish language writing.
Also a mathematician, his "anti-poetry" - which mixes colloquial language with old-fashioned verse - is very influential in Latin America.
He published his first collection of verse in 1937 and won Chile's National Literature Award in 1969 and 1981.
The Cervantes Prize will be handed out on 23 April, the anniversary of the Don Quixote author's death in 1616.
Last year Spanish novelist Ana Maria Matute took home the literary award.
The author is only the third woman to win the award since it was created in 1975.
The prize alternates between Spanish and Latin American writers, and other previous winners have included Peru's Mario Varga Llosa and Spaniard Camilo Jose Cela.