Amanda Seyfried to debut latest film at Sundance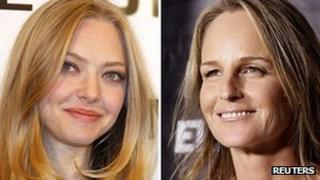 William H Macy, Helen Hunt and Amanda Seyfried are among the stars with movies which will be premiered at next year's Sundance Film Festival.
Macy and Hunt will debut their latest film, The Surrogate, about a man, who decides he no longer wants to be a virgin and hires a sex surrogate.
Seyfried stars alongside Michael Cera and Jason Ritter in The End Of Love.
The 11-day Utah event is widely regarded as the world's foremost showcase for independent film.
There are 16 films in competition for US dramatic film competition, whose past winners include Winter's Bone, Precious and Frozen River - and another 16 for the documentary category.
Overall, more than 4,000 films from around the world were submitted to the festival this year. But the final selection features only a few household names - amid a line-up peppered with newcomers.
Robert Redford, founder and president of the Sundance Institute, said: "We are, and always have been, a festival about the film-makers.
"So what are they doing? What are they saying? They are making statements about the changing world we are living in.
"Some are straight-forward, some novel and some offbeat but always interesting. One can never predict. We know only at the end, and I love that."
John Cooper, director of the festival, said this year film-makers have been forced to be "more resourceful and truly independent in their approaches to filmmaking" because of the economic crisis.
The US documentary competition includes films about renowned Chinese artist and activist Ai Weiwei, and another on performance artists Marina Abramović.
Other documentaries include The House I Live In, about drug abuse in America, and The Invisible War, which looks at the exploration of rape in the US military.