Museum entry fees: How the UK compares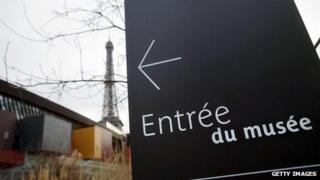 It's a decade since most of Britain's national museums and galleries abandoned entrance fees as a matter of government policy. Since then, only a few other nations around the world have followed suit. Why do so many countries remain wedded to taking money at the door?
In the first half of 2008, visitors could enjoy many French museums and galleries free of charge for the first time. The experiment, ordered by President Sarkozy soon after he came to power, was inspired in part by Britain's shift to free admission in 2001.
Some French institutions threw open their doors entirely, while others introduced free admission on certain days. But when the six months were up, the charges returned... and the experiment has not been repeated.
When Britain abolished most museum admission charges, it was sometimes suggested other nations would follow suit. In fact, although there have been experiments elsewhere, in most countries it remains the norm to pay.
Ann-Sofi Noring, co-director of Sweden's Moderna Museet, says it would be nice to do away with admission charges but that, for now, it's impractical.
"For us they bring in roughly 1.5m euro a year. Where else is the cash to come from?"
In fact the museum, split between Stockholm and Malmo, did offer free admission between 2004 and 2007. It was another experiment - introduced by the government of Goran Perssonm - which applied to most Swedish museums.
"But then it became rather a political issue," says Noring. "A conservative government came to power and their argument was why should museums and galleries be free, but not cinemas and theatres?"
"In those three years we started charging for temporary exhibitions - a big Salvador Dali show or whatever. And I can certainly see attractions to the British model of keeping the basic collection free but charging for special shows with big names."
She says the argument about charging isn't just about head-count.
"We found the number of admissions did go up [with free admission]. In fact our conservation department began to worry there were now far too many people in the galleries.
"But we started to see a different kind of visitor - which is surely what the whole debate is about."
When, in 2008, France's Ministry of Culture weighed up its brief experiment with free admissions, it too had to decide if the large subsidy was justified by success in attracting first-time visitors.
Ultimately the French decided the increase in numbers was mainly the same old gallery-goers returning for multiple visits.
But though the experiment was judged a failure overall, it brought about an important change. Research showed that most of those attracted by free admission had been young. As a result most French museums and galleries now offer free admission to residents up to the age of 26.
Outreach projects
In the US, some important museums and galleries have long been free to enter.
The remarkable Smithsonian museums in Washington DC are all free - including the perennially popular Air and Space Museum and the American History Museum.
The vast Smithsonian gets federal funds. But there are also free private museums and galleries, such as the Getty in Los Angeles.
Yet elsewhere in America you can encounter big admission charges.
In New York it now costs $25 to get into either MoMA (the Museum of Modern Art) or the huge Metropolitan Museum.
This provides serious income: The Met attracted a total of some 5.7m visitors in 2010/11 (although not all were fee-paying). That's 650,000 more than Tate Modern in London - proof, say some, that people aren't discouraged by charges if the destination is good enough.
And MoMA says raising its entrance fee this summer by $5 had no effect on visitor numbers.
The idea of making admissions free isn't really a live issue in the States.
Major institutions focus on outreach projects which encourage the engagement of parts of society otherwise unlikely to visit.
Some see this as a better way of challenging the perceived exclusivity of major museums and art galleries.
So the policy instigated in the UK a decade ago hasn't been widely copied around the world. And where there have been experiments elsewhere they've mainly faltered.
But it's also clear that in Britain the policy has been hugely popular and that, even in troubled financial times, there is little political will to reverse it.