Madonna settles noisy neighbour dispute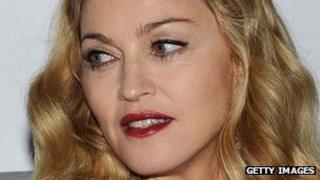 Singer Madonna has settled a dispute with her neighbour, who took legal action against the star over the noise she made in her New York apartment.
In 2009 Karen George filed legal papers complaining that Madonna was repeatedly using the flat as a rehearsal space.
Ms George said she was driven from her apartment at times by the "unbearable" noise and vibrations".
Madonna's lawyers said the matter had been resolved, but no further detail has been released.
In 2009 Ms George said dance routines subjected her to "blaring music, stomping and shaking walls" for up to three hours a day.
She also launched legal action against the management company of the Manhattan building, saying it had failed to act on her complaints.
Madonna did attempt to subdue the noise, but Ms George said it did not work, according to an August court ruling that turned down the singer's effort to dismiss the legal action.
The singer had always maintained that the noise levels never breached legal limits.
However, she claims she has since built a studio elsewhere and no longer uses the apartment for rehearsals.
Madonna moved into the seventh-floor apartment in the building, which overlooks Central Park, following her divorce from film director Guy Ritchie.