Lenny Kravitz accepts French honour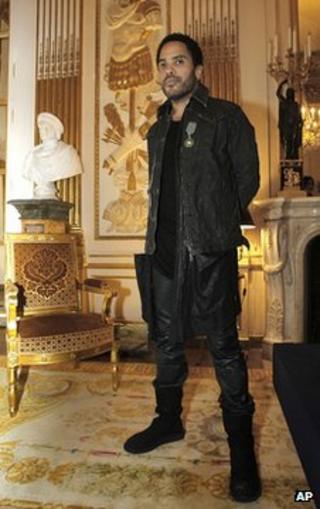 Rock star Lenny Kravitz has been presented with one France's highest cultural awards.
Culture minister Frederic Mitterrand made the musician an Officer of the Order of Arts and Letters at a ceremony in Paris.
He told Kravitz, whose hits include Let Love Rule and Are You Gonna Go My Way, "you freed yourself of the barriers between black and white sound".
The star said he got his first break at a French music festival in 1989.
The Trans Musicales festival in Rennes transformed his career "overnight", he told the Associated Press news agency.
"I know it sounds like a fairy tale but it's true," he said.
He added that he was "particularly touched" to be decorated in France, a country that believed in him when he was misunderstood at home.
"In my early days, it didn't work at all in the United States but that night triggered everything, as if all the good energy was concentrated here."
Inter-racial issues
The star has a long association with France, living in the country several months of the year and recording tracks at the Chateau des Condes, a castle located abut 100km from Paris.
He also wrote and produced French star Vanessa Paradis' self-titled 1992 album, which spawned the international hit single Be My Baby.
Kravitz's albums regularly chart in upper reaches of the country's top 100, his latest album peaking at number seven - much higher than it managed in either the US or UK.
Called Black and White America, the record tackles inter-racial issues - in particular those faced by his black mother and white father in 1960s New York.
Other people to be inducted into l'Ordre des Arts et des Lettres include Paradis, Martin Scorsese, Bob Dylan, George Clooney and Super Mario creator Shigeru Miyamoto.