Christa Wolf dies aged 82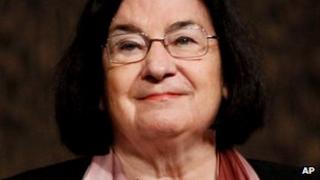 Christa Wolf, one of the best known authors from the former East Germany, has died in Berlin at the age of 82 after a long illness.
In works including Cassandra and Medea, she explored power shifts and war, as experienced by women.
Wolf courted controversy throughout her career and had links to the East German Stasi police in the 1960s.
In 2010, she won Germany's Thomas Mann prize for writing about "the struggles, hopes and mistakes of her age".
At the end of World War II, she decided to stay in East Germany and joined the communist Party.
The author attracted controversy in 1993 when it was discovered that she had worked for the East German secret police, the so-called Stasi, from 1959 to 1962.
But latterly, she became increasingly critical of East Germany and was even the target of Stasi spying herself.
She won numerous awards throughout her life including the Georg Buchner prize, in 1980, and was a double winner of East Germany's national literary prize.
Her most recent work, Leibhaftig (2002), detailed the struggle of a woman in a 1980s East German hospital, awaiting medication from the West.
The author, who was married to author Gerhard Wolf, leaves behind two children.