Oscar Wilde's restored tomb is unveiled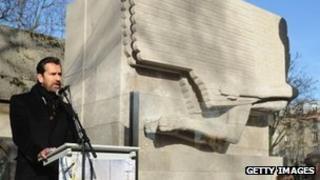 Oscar Wilde's restored tomb has been unveiled in Paris, complete with a glass barrier to make it "kiss-proof".
Work was carried out on the gravestone because it was covered in lipstick marks left by tourists, which was gradually destroying it.
Actor Rupert Everett, who has penned a screenplay about Wilde, said the tomb was "being eaten away by lipstick".
The star attended the ceremony along with Wilde's grandson Merlin Holland.
The tomb was designed by Modernist sculptor Jacob Epstein and survived almost unscathed until 1985.
Speaking to BBC Radio 4's Today programme, Everett said: "The Irish government have taken it upon themselves to renovate the Epstein gravestone, which is literally being eaten away by lipstick, endless women kissing it."
The glass barrier prevents visitors from touching the stonework, although tourists have already started leaving their lipstick marks on a nearby tree.
Everett, who starred in the 2002 film version of Wilde's The Importance of Being Earnest, said: "I find him very inspiring and touching, not just for his genius, also for his stupidity, in a way.
"He was a human being, and made mistakes like everyone else."
Wilde was convicted of gross indecency in 1895 and was sentenced to two years in prison in the wake of his love affair with Lord Alfred Douglas.
During his trial he had attempted to explain his attitude to kissing boys and men.
"Kisses for Oscar Wilde were not just signs of love, he associated them with danger, even death," said Everett.
Mr Holland said he was grateful to the Irish government for restoring the tomb.
"The royalties on Oscar Wilde's works disappeared many many years ago, and there's no way I could possibly have raised the money to do this myself.
"If my grandfather had been here he would have loved the attention," he added.