National Theatre makes comedy error on opening night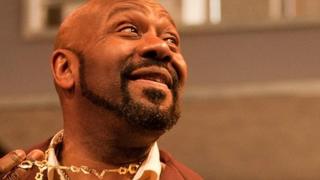 The National Theatre's production of Shakespeare's A Comedy of Errors has opened to positive reviews in London.
Making its own error, the theatre's programme partnered one character with the wrong husband - just as the character mistakenly does on stage.
In the play, Adriana's husband is Antipholus of Ephesus. According to the programme, she was married to his twin brother Antipholus of Syracuse.
The error mirrors scenes where Adriana mistakes Syracuse for her husband.
The new production sees Lenny Henry make his National debut in Shakespeare's tale of mistaken identity between two set of twins separated at birth.
Critics praised the comic's "tremendous stage presence" with one calling him "beyond good".
The National Theatre put correction slips in programmes for Tuesday's performance, but said it would be reprinting the booklets.
Writing in The Telegraph, Charles Spencer said Henry "once again impresses" adding: "Cooke and his fine company achieve the transition from ribald humour to something deeper and truly heartfelt with grace".
He also praised Claudie Blakley, who plays Adriana, for "a delightful comic turn".
Sam Marlowe of The Arts Desk also praised Henry, saying he "makes pleasingly ferocious work of the slapstick violence with which he repeatedly punishes his perplexed servant."
"This is comedy with bite, all the better for the touch of the maniacal that tinges its laughter," he said.
While Quentin Letts wrote in The Daily Mail: "Mr Henry's technique in the fight scenes is a bit dodgy but he makes up for it with his energy, some rationed gurning and his stage presence."
The Independent's Paul Taylor said although the comic was the main box office draw, "there's no suspicion that the play has been twisted into a star vehicle for him".
He added: "He's part of a fine ensemble that work hard to animate an over-cluttered concept and eventually drive the proceedings to a pleasing crescendo of comic mayhem."
Giving it a score of four out of five, The Guardian's Michael Billington found the production "slightly strenuous fun".
"There are times when [director Dominic] Cooke's determination to create a massively detailed cityscape suffocates some of the play's mistaken identity fun.
"But in the last quarter-hour his production achieves a magical simplicity that induces a sense of awe and wonder," he added.
The play runs at the National Theatre until 1 April 2012.