The Artist leads Spirit nominations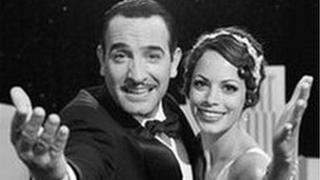 Psychological drama Take Shelter and silent movie The Artist lead the shortlist for the Independent Spirit Awards, with five nominations apiece.
French comedian Jean Dujardin of The Artist is up for best actor alongside Take Shelter's Michael Shannon.
Jessica Chastain, who also stars in Take Shelter, is recognised in the best supporting actress category.
Presented annually by cinema group Film Independent, the awards recognise films that cost less than $20m to make.
The UK has two nominations in the international film category - Steve McQueen's Shame and Paddy Considine's Tyrannosaur.
The winners will be announced at a ceremony in Los Angeles on 25 February.
The Artist's Michel Hazanavicius is up for best director, as is Take Shelter's Jeff Nichols.
Dujardin, won the best actor prize at Cannes this year, plays Hollywood leading man George Valentin in The Artist. The character has built his career in silent movies but sees it start to crumble with the advent of "talkies".
Take Shelter was also a hit at Cannes, winning the top critics' prize at the prestigious film festival in May.
It is the story of a man who has terrifying dreams of an apocalyptic storm and questions whether they are real or an indication of a mental illness.
Other films in the running for best feature are 50/50, Beginners, Drive and The Descendants.
Best actress nominees are Lauren Ambrose for Think of Me; Rachael Harris for Natural Selection; Adepero Oduye for Pariah; Elizabeth Olsen for Martha Marcy May Marlene, and Michelle Williams for My Week With Marilyn.
Dujardin and Shannon take on A Better Life's Demian Bichir, Drive's Ryan Gosling and Rampart's Woody Harrelson in the best actor category.
Joining Chastain in the best supporting female lead category are Anjelica Houston, Janet McTeer, Harmony Santana and Shailene Woodley.
Chastain's other recent films include The Help, The Tree of Life and Coriolanus.
Albert Brooks, John Hawkes, Christopher Plummer, John C Reilly and Corey Stoll will all compete for best supporting actor.
Black Swan was the big winner at the Spirit Awards last year. Its star Natalie Portman went on to win best actress at the Oscars.