Author Helen Forrester dies at 92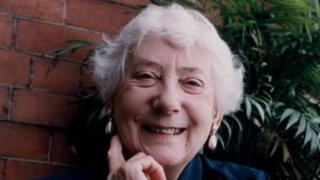 Helen Forrester, the author best known for her autobiographical work Twopence To Cross The Mersey, has died at the age of 92.
The 1974 book told her rags to riches tale about growing up during the Depression years in Liverpool - it was later made into a stage play.
The follow-up book, Liverpool Miss, was also a bestseller.
Forrester, whose real name was June Bhatia, was born in Hoylake, Merseyside, in 1919.
She spent her early years living comfortably in the south of England until her father went bankrupt in 1930.
The family returned to Liverpool and fell into poverty, with 12-year-old Forrester left to bring up her six younger siblings.
Her first book was published in 1959, by which time she had settled in Ottawa with her husband.
She continued to write until 2004, producing 16 books in all.
Twopence to Cross The Mersey opened at Liverpool's Empire theatre in 2004 and has had three more runs at the same venue since then, taking more than £2m at the box office.
Forrester leaves a son, daughter-in-law and two grandchildren.
A memorial service will be held in Edmonton, Canada, on 2 December.