Martin Scorsese wants antidote to 'theme park films'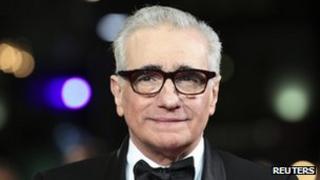 Martin Scorsese says Hollywood needs an alternative to "theme park" movies that have come to dominate the box office.
He told the BBC that effects-led blockbusters had "taken away serious film-going and serious film consideration".
"We have to react against the theme park film, as well made as they are, and as enjoyable as some of them are."
The director's latest film, Hugo, is in part a celebration of cinema's history. It received a Royal premiere on Monday.
The Prince of Wales and Duchess of Cornwall attended the screening in London's Leicester Square, alongside stars Sir Ben Kingsley, Chloe Moretz and Asa Butterfield.
The family-focused film marks Scorsese's first foray into 3D.
Critics have applauded his use of the format to complement the story - about a young orphan who lives in the bowels of a bustling French railway station in the 1930s, maintaining its many giant clocks.
"What Marty has done is push 3D around a corner and given a gimmick a huge amount of heart and potential," Sir Ben told the BBC.
"I think there's a reaction against these [popcorn] movies," he continued.
"There are six or seven myths around which all our literature is based. I think there is an anxiety amongst certain filmmakers that the thread that connects what we do to these ancient, life-affirming myths is going to snap."
"And once that disconnect happens, the film is drifting. It's just a series of noises and effects."
Scorsese, a passionate cineaste, was part of the "new wave" of American movies in the 1970s, a movement which produced gritty, heavyweight classics such as The Godfather, Dog Day Afternoon and The Deer Hunter.
His own movies include influential psychodramas such as Taxi Driver and 1990's Goodfellas.
Colonel Blimp
Today, the director is actively involved in the restoration and theatrical presentation of old movies.
During his promotional trip to London, he will be presenting a new print of 1943's The Life and Death of Colonel Blimp at the British Film Institute.
The military satire, directed by Michael Powell and Emeric Pressburger, starred Roger Livesey in the pompous title role, and has been called "the most wonderfully British movie ever made".
Even so, its story - which features a friendship between a British and German officer - was considered disloyal, and Prime Minister Winston Churchill tried to have it banned.
The new print, overseen by Scorsese's Film Foundation and Powell's widow, presents the Technicolor epic in its unedited form. After its premiere at the BFI on 30 November, it will be released to cinemas around the UK.