British Museum acquires Picasso etchings with £1m donation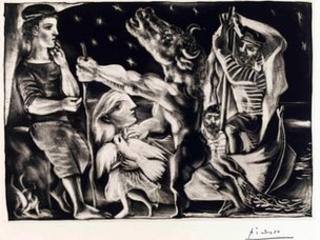 A businessman's gift of £1m has allowed the British Museum to buy a complete set of 100 Picasso etchings never before seen in public.
The museum said the etchings, produced during a "critical period in Picasso's career", would be the only complete set held by a public museum in the UK.
The works were acquired following the donation from City fund manager Hamish Parker on behalf on his late father.
The complete Vollard Suite will go on show at the British Museum next summer.
It is believed to be the first time the suite - created between 1930 and 1937 - has been shown in Britain in the past 50 years.
Picasso himself described his etchings as a "visual diary" and a way of keeping track of ideas he was developing.
The suite includes the artist's 17-year-old muse, Marie-Therese Walter, while others show the studio where Picasso was creating new sculptures.
It takes its name from Paris art dealer and print publisher Ambroise Vollard, who commissioned the etchings and gave Picasso a Renoir and a Cezanne painting in exchange for the work.
Some 313 sets were printed but Vollard died before they could be distributed.
The British Museum's set has been acquired from the heirs of French dealer Henri Petiet - who purchased most of the prints from the Vollard estate - following the donation by the Hamish Parker Charitable Trust.
Prints and drawings curator Stephen Coppel said he was "astonished" to receive an email in April from Mr Parker regarding the donation, made in honour of his late father, Maj Horace Parker, who was a fan of the museum.
Although a handful of museums outside Britain have sets in their collections, the Vollard Suite is said to be "one of the very best impressions".
The etchings will be exhibited from 3 May - 2 September 2012.