Tree of Life and Beginners tie for top Gotham Award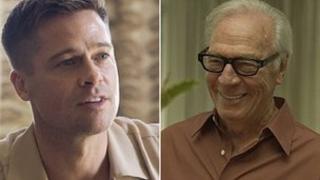 Terrence Malick's The Tree of Life and Christopher Plummer film Beginners have shared the top prize for best feature at the Gotham Independent Film Awards.
Jury member Natalie Portman said at the ceremony the panel was "stuck" picking a winner, so chose to honour both.
Beginners - which stars Plummer as an elderly gay man who comes out to his son, played by Ewan McGregor - also won best ensemble performance.
The event marks the start of the film-awards season.
British actress Felicity Jones took the prize for breakthrough actor for her role in Like Crazy, playing a student separated from her American boyfriend after her visa expires.
The best documentary honour went to Better This World, about two boyhood friends from Texas accused of attempting to bomb the 2008 Republican convention.
While Dee Rees won the breakthrough director award for her debut non-documentary feature, Pariah, about an African-American teenager confronting her sexual identity.
The Audience Award went to Girlfriend, a film about a young man with Down's syndrome who has a crush on a troubled single mother.
Special tribute awards were also given to Charlize Theron, Gary Oldman and director David Cronenberg.
The Gotham Awards are held annually by the Independent Feature Project, a nonprofit organization supporting independent film-making.