Will Shame change the game for the NC-17 rating?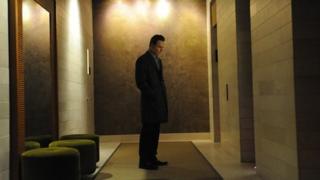 As Steve McQueen's sex addiction film Shame gets its US release, will it be helped or hindered by its restrictive NC-17 rating?
With its full-frontal nudity and scenes of group sex, it is no surprise that Shame - a British, independent film - was awarded an NC-17 rating by the US censor for its "explicit sexual content".
More unusual is how the film's US distributor Fox Searchlight has embraced the rating - often seen as a commercial kiss of death - as part of its publicity drive.
"Fox Searchlight have been very clear that the NC-17 certificate is a 'badge of honour'," says Shame's producer Iain Canning. "Whether you like it or not, it's going to create a certain amount of controversy and debate."
The rating restricts anyone under the age of 18 from attending a film. It is not uncommon for films which receive it to appeal or re-edit down to an R-rating - meaning that children under 17 can attend if accompanied by a parent or guardian.
Shame, which stars Michael Fassbender and Carey Mulligan, might have been expected to take that path to capitalise on its increasingly high profile.
It is nominated in seven categories at the British Independent Film Awards, which take place in London on Sunday - and is on the shortlist for best international film at the US equivalent, the Film Independent Spirit Awards.
Fassbender plays Brandon, a successful New Yorker who is struggling with an addiction to sex and pornography. Mulligan is the sister who turns up unannounced at his apartment.
The role, which strips Fassbender naked both physically and emotionally, won him the best actor award at this year's Venice film festival.
The film industry is closely watching Shame's US release on Friday for signs that the stigma surrounding an NC-17 rating is starting to fade.
"It was thought to be the kiss of death because none of the major cinema chains would book an NC-17 film," explains Mike Goodridge, editor of Screen International.
"A film like Shame it can easily get around that because all the independent circuits will play an NC-17 - especially a film that's come with this much hoopla and pedigree. Fox Searchlight can use it to their advantage because it wears its sexual content on its sleeve."
"An NC-17 is the equivalent to our 18, but we don't have any stigma attached to our ratings," says Goodridge.
'Extreme cinema'
The NC-17 rating was introduced in 1990 after the original X-rating had become associated with the pornography industry. Midnight Cowboy is the only X or NC-17 film ever to have won an Oscar for best picture.
The MPAA says that NC-17 does not mean "obscene" or "pornographic", and should not be "construed as a negative judgment in any sense".
Says Canning: "Being a British producer I don't normally come across it, but it's the most restrictive rating you can have, so it's seen to be the most extreme cinema."
He adds: "It will be interesting to see whether the rating will allow us to think this is suitable for a certain age range, without thinking it's got content which is questionable in other senses.
"I would argue that even recently with Ang Lee's Lust, Caution there has been a refocusing of that certificate to be about cinema for adults."
National Association of Theatre Owners (NATO) president John Fithian told the Associated Press that Shame "is potentially an important step in the legitimate use of the NC-17".
"There just aren't very many movies released in the NC-17 rating anymore. We get maybe one or two a year. Filmmakers and movie studios are inappropriately afraid of the rating," he says.
Last year, the MPAA changed the rating for Blue Valentine from NC-17 to R after an appeal by distributor Harvey Weinstein. No cuts were made.
The marital breakdown drama, starring Ryan Gosling and Michelle Williams, was rated 15 in the UK.
"I think the MPAA made a mistake," director Derek Cianfrance told the BBC last year. "They were humble and generous to reverse their decision and I have a lot of respect for them for that.
"It's started a big discussion in America about why is sex taboo and why is violence okay. I think the MPAA has to re-evaluate its stance on things."
Shame has been rated 18 by the BBFC in the UK, where it will be released on 13 January 2012 in the same week as Steven Spielberg's War Horse.
Fox Searchlight acquired US rights to Shame following its world premiere in Venice. Meanwhile, the film's UK distributor Momentum is gearing up for an extensive Bafta campaign.
Canning, who admits that he was not convinced that Shame would even find a US distributor before its premiere, says that cutting the film to avoid an NC-17 rating was never an option.
"Normally, a producer's role is to try and bring in an element of compromise between the film maker and the business side in order to maximise the audience," he says.
"Given the subject of Shame, we would be doing a disservice to all of the people we researched and spoke to if we had compromised on the content."
With Shame about to open in the US, Goodridge predicts that it will build up a strong word-of-mouth buzz on the arthouse circuit. "It's a film that affects people very deeply. It don't think it's titillating in any way."
And he doesn't think the NC-17 rating will scupper its chances during awards season.
"I don't think the voters give two hoots," he says. "Midnight Cowboy was an X and broke many taboos sexually at the time, so it's not like the Academy is scared of grown-up themes.
"But it is an ageing group and quite how they'll accept Shame with its rather frank story of addiction is a different matter."
Shame is released in the US on Friday and in UK cinemas 13 January 2012.