George Michael shelves UK shows due to pneumonia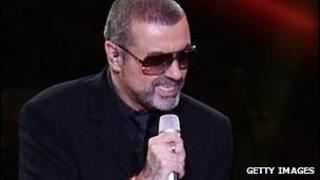 Singer George Michael has cancelled the remaining dates of his tour because of ill health, his publicist has confirmed.
The 48-year-old was admitted to hospital in Vienna on Monday and is being treated for "severe" pneumonia.
His publicist added that the singer is "responding to treatment and slowly improving".
Discussions are under way about rescheduling the remaining 14 dates that have been put off.
The star's spokeswoman said in a statement: "George Michael is ill with pneumonia and any other speculation regarding his illness is unfounded and untrue.
"He is receiving excellent medical care, he is responding to treatment and slowly improving.
"To ensure his complete well-being, George Michael's doctors have advised that he cannot perform the rest of his Symphonica tour and that he instead takes a full and complete rest."
The former Wham! singer kicked off his European tour in Prague in August.
It was originally meant to include 47 concerts. He was due to bring the tour to the UK on Saturday, with dates continuing until 19 December.
Professor Dr Christoph Zielinski and Professor Dr Thomas Staudinger of the Vienna hospital where the musician is being treated said: "George Michael has severe community acquired pneumonia and is being treated as an inpatient.
"His condition has stabilised and he is responding to treatment.
"From the current point of view, the time until recovery cannot be estimated, but he will not be able to perform the rest of the tour. Besides medical treatment, complete rest and peace and quiet are mandatory."
In October, a viral infection caused Michael to pull out of a show at the Royal Albert Hall in London, following advice from doctors.