JK Rowling tells Leveson inquiry press targeted children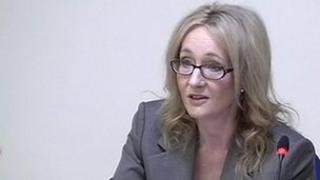 This round-up of Friday's main media stories reports on the evidence of JK Rowling and Sienna Miller at the Leveson inquiry.
JK Rowling has told an inquiry into press ethics how she tried to protect her children from media intrusion into her private family life, reports BBC News. The Harry Potter author said a reporter had tried to contact her by slipping a note into her five-year-old daughter's schoolbag. Lord Justice Leveson also heard from actress Sienna Miller and former motorsport boss Max Mosley.
The BBC will apologise to Basildon council after an investigation found The One Show broadcast a biased item about the controversial travellers' site at Dale Farm, reports the Daily Telegraph. The BBC Trust's editorial standards committee found the show had been ''duly accurate'' and ''had not knowingly and materially misled its audiences'' but had ''failed to clarify that the site had been developed on green belt land''. It also said a studio discussion was unfair to the council.
The BBC will mark next year's Olympics with a star-studded Shakespeare season and three of the biggest music events of 2012, reports the Guardian. It says the theme to the BBC's coverage of the London Games will be provided by the Mercury Music prize-winning band, Elbow.
Mail Online, guardian.co.uk and Telegraph.co.uk all posted new internet traffic records in October, reports the Guardian. It says traffic was boosted by major stories including the deaths of Muammar Gaddafi and Apple founder Steve Jobs.
Artist Tracey Emin, Olympics chief Lord Coe and former speaker Baroness Boothroyd have been announced as the guest editors for BBC Radio 4's Today programme over Christmas, reports the Daily Telegraph.
Next week's national public sector strikes over planned changes to pensions preoccupy Friday's newspapers, as reported in the BBC newspapers review.