The Mousetrap to tour for 60th anniversary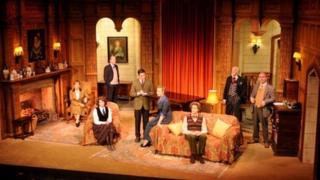 Agatha Christie's The Mousetrap is to celebrate 60 years on stage by touring the UK for the first time.
The whodunnit, which has been in the West End since 1952, is the world's longest-running stage production.
It will celebrate its 60th birthday - on 25 November 2012 - with a gala performance.
"Sixty isn't the end," said Christie's grandson, Mathew Prichard. "I see no reason why it can't go in for another 60 years."
The show's producers have promised "all-star casting" for the UK tour, which begins at Canterbury's Marlowe Theatre on 11 September.
The London show, at St Martin's Theatre, will continue during the tour.
Details of the tour were announced on The Mousetrap's 59th birthday, ahead of the play's 24,587th performance.
Producer Sir Stephen Waley-Cohen said he was not worried that the UK tour might "eat up" audiences in the West End.
"Even with very good houses for the last 59 years, only about 10m people have seen the play in London - that's about the number for one episode of a good soap or Downton Abbey," he said.
"I really don't think that taking a high-quality production around the country is going to damage London in any way."
In addition, 60 productions of The Mousetrap have been licensed worldwide, including China, Australia, Russia, South Africa, Venezuela and the US and Canada.
Actress Georgina Sutcliffe, who plays Mollie Ralston in the current London cast, said: "You'd think that something that's been running for so long would be tired, but it isn't.
'Gosh' and 'darling'
"Our director Geoff Bullen has livened it up a bit and we're playing it for laughs - and we're playing it a bit darker as well.
"It's set in 1952, so it's still all very 'gosh' and 'darling' and 'oh bother', but the characters are not two-dimensional, and there are contemporary themes - it's about a child abuse case."
She said there were still many people who didn't know "whodunnit".
"You'd be surprised," she said, "because when it's revealed every night there's a gasp from the audience."
The Mousetrap has featured 403 actors during its record-breaking run. Richard Attenborough and his wife Sheila Sim were in the original cast.
Since 1958, it has been the world's longest-running stage production.
Christie gave her grandson, Mathew Prichard, the royalties for The Mousetrap for his ninth birthday. In recent years he has donated these to charity.
"I have seen The Mousetrap in French, Spanish, Portuguese and even Chinese. It has a huge following all over the world," he said, at the St Martin's launch event.
He added: "My grandmother was a nice, kind, gentle, shy person. She was was also a genius and this theatre perhaps marks the greatest living temple to her art."