Lech Walesa biopic begins filming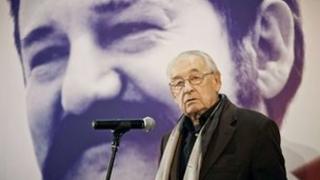 Oscar-winning director Andrzej Wajda has begun filming a biopic in Poland about former president and Nobel Peace Prize winner Lech Walesa.
"I don't want to but I have to," Wajda, 85, told a press conference, repeating a famous line used by Walesa when he ran for office for the first time.
He said Walesa, 68, who launched the Solidarity union that helped topple communism in Eastern Europe, had given his blessing to the film.
Walesa is played by Robert Wieckiewicz.
Wajda, whose previous films include The Promised Land, Man of Iron and Bafta-winner Katyn, said it would be "the most difficult movie I have made in my life".
The Bafta fellow, who won a lifetime achievement Academy Award in 2000 for "five decades of extraordinary film direction", said documentary footage from the Gdansk shipyard strike of 1980, led by Walesa, would be used in the film.
Screenwriter Janusz Glowacki said he took the job because he wanted to show Walesa as a human being and not just as a hero.
"I agreed to write a script because the director told me that he didn't want to raise another Walesa monument," he said.
Leading man Robert Wieckiewicz, meanwhile, said it would be difficult to play a contemporary character who was still alive.
"He's one of the best-known Poles. I think there are dozens of Walesa experts in Poland and each of them will have their own opinion," he added.
Walesa, due out in autumn 2012, will cover the period from street protests by workers in 1970 to his speech to US congress in 1989, after the end of communism in Poland and before he became president.