Leveson Inquiry: McCanns say press made up stories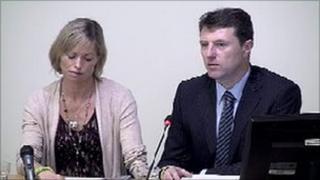 This round-up of Thursday's main media stories reports on the McCanns' evidence to the Leveson inquiry.
The parents of missing girl Madeleine McCann have told the Leveson inquiry they were left distraught by press suggestions they were responsible for Madeleine's death, reports BBC News. Gerry McCann said many of the stories were untruthful, sinister or, he believed, made up. His wife, Kate, said seeing her private diary published in the News of the World made her feel "totally violated".
After watching them give evidence, Esther Addey says in the Guardian that Kate and Gerry McCann are no longer afraid of the British press because so many dreadful - and untrue - stories have already been printed about them.
Downton Abbey and Strictly Come Dancing are "to go head to head" on Christmas Day in the annual battle for millions of festive viewers, reports the Daily Mail. It says: "The broadcasters are placing the smash hit shows at the heart of their festive schedules and will compete to be the most watched programme on December 25." However, it goes on to say they will be on at the same time.
Newsround, "the BBC show that introduced generations of children to current affairs and the wonders of John Craven's wardrobe", is to be honoured by Bafta, reports the Daily Telegraph. It says the programme will receive the Special Award at the British Academy Children's Awards this Sunday, in celebration of its 40th anniversary.
The powerful testimony by the parents of missing Madeleine McCann at the inquiry into newspaper standards leads several of Thursday's front pages. "I feel violated by the press" is the Times headline, quoting Kate McCann, as reported in the BBC's newspapers review.