Conrad Murray prosecutors seek four-year sentence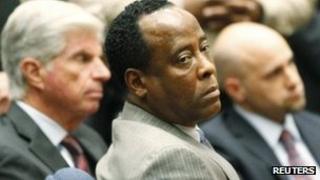 Prosecutors for the state of California have asked a judge to sentence Conrad Murray to four years in prison, the maximum allowed in his case.
His lawyers have asked that he is kept on probation, saying he is serving "a lifetime sentence of self-punishment".
Murray was convicted of the involuntary manslaughter of legendary singer Michael Jackson after a six-week trial.
A new California law passed to combat prison overcrowding could limit Murray's sentence.
Adopted in October, the law sends low-risk prison inmates to county jails. Los Angeles County jail officials have been releasing inmates early.
'No remorse'
As well as seeking a four-year term, prosecutor David Walgren also said that Murray, 58, should pay restitution to Jackson's children.
Murray could also lose his licence to practice medicine.
In a sentencing memorandum delivered to Judge Michael Pastor in advance of a 29 November hearing, Mr Walgren said Murray had shown no remorse for Jackson's death.
Michael Jackson died on 25 June 2009 from an overdose of the powerful anaesthetic propofol.