The Riots at the Tricycle draws praise from critics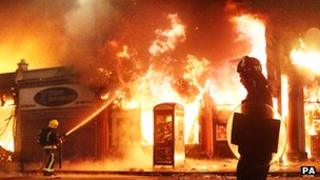 A play based on eyewitness accounts of this summer's riots in England has been praised for shedding light on the underlying causes of the unrest.
The Riots, which opened at London's Tricycle Theatre on Monday, is based on interviews with politicians, police victims and the rioters themselves.
Critics have described it as "compelling" and "thought-provoking".
"It asks the right questions in a way that is clear, gripping and necessary," said The Guardian's Michael Billington.
"You get a plurality of views, but what emerges is a widespread sense of people, and not just the young, seeking revenge on an unjust society."
In a four-star review for The Telegraph, Charles Spencer called the drama "admirably even-handed".
"Nicolas Kent directs a production of admirable fluency, using captions to supply statistics and introduce us to those who are speaking," he added, while admitting it was "sometimes hard to keep up".
Aleks Sierz, writing for The Arts Desk, was impressed at how the play contrasted the "the stomach-churning fears of the police" with the "carnival atmosphere" amongst looters.
'Tribunal plays'
The Riots is the latest in a series of plays at the Tricycle Theatre that take verbatim testimonies from headline-grabbing stories and turns them into drama.
Previous productions have looked at the Stephen Lawrence inquiry and the events of Bloody Sunday. However, most of those were taken from transcripts of public enquiries.
So far, the government has refused to hold an inquiry into August's riots. The theatre claims its play will help fill that void.
It was written by South African-born novelist Gillian Slovo, who previously worked on the Tricycle's reconstruction of events at the United States's Guantanamo Bay detention camp in Cuba.
As The Riots opened, she told Radio 4's Front Row that the script had been compiled from "56 hours of taped material".
"Every single minute of it was fascinating, almost without exception," she continued.
"But it was clear to me from the beginning that we needed to hear from certain people, in particular a victim of the riots - but we also needed some rioters and we needed some police. Out of those central people, I built the story of the others."
Following the widespread rioting which happened across English cities including London, Birmingham and Manchester in August, more than 3,000 people were arrested - nearly 2,600 in London alone.
More than 1,000 people were charged with criminal offences.
Slovo acknowledged that it had been difficult to obtain evidence from looters and rioters.
"They were either in prison, in which case they're very hard to get to, or they were awaiting trial, in which case their lawyers advised them not to talk."
"We put an advert in the prison newspaper, which is how we got various people who had been convicted writing to us."
Among them was 18-year-old Chelsea Ives, - a former Olympic ambassador who was jailed for two years after being turned in to the police by her mother.
The Daily Mail, which has not yet reviewed the play, has attacked the decision to give prisoners a voice in a production funded by Arts Council money.
However, Slovo said the play could not have worked without their input.
"How can you possibly do an investigation of the riots without trying to find out what the rioters felt?" she asked.
"I don't think that they were one person. It's important for us to listen and to see how they got caught up, what they think about it afterwards, and what provoked them to do it. Otherwise, how on earth can you make sure that this won't happen again?
"Presumably we all, including the Daily Mail, would like to have it not happen again."
The Riots is playing at the Tricycle Theatre until 10 December, 2011.