50/50 tackles cancer with comedy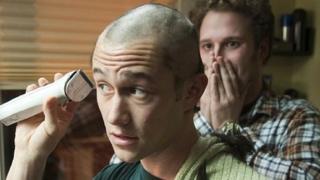 50/50 is a comedy starring Joseph Gordon-Levitt and Seth Rogen as best friends whose lives are changed by a cancer diagnosis. But can such an emotive and sensitive subject be funny?
Cancer is usually the subject of Hollywood weepies, but in recent years the illness has been embraced by comedies on the big and small screen, with US shows The Big C and Breaking Bad.
New film 50/50 is a fictionalised version of what really happened to screenwriter Will Reiser, who was diagnosed with a tumour on his spine when he was 25.
And while the movie shows the difficult and painful side of cancer, it also throws in a surprising dose of comedy.
Inception actor Joseph Gordon-Levitt stars as radio producer Adam, dealing with his diagnosis and subsequent treatment, and how it impacts on relationships with his family, girlfriend, therapist and best friend Kyle.
Seth Rogen, who also produced the film, plays Kyle - a role based on himself. He and Reiser first became friends while working together on the US version of Da Ali G Show.
"There are some things that did happen in real life - like Seth really did change the dressing on my wound after my surgery, and he really did get me medicinal marijuana," says Reiser.
"But what happens in the movie is not necessarily how it went down in my own personal life," he adds.
"It's more of the absurdities and dysfunction that I experienced,"
The moment Adam tells Kyle he has cancer is one of the set pieces in the film: Kyle lists a host of celebrity cancer survivors - but includes the late Patrick Swayze. On hearing Adam's 50/50 survival rate, he adds: "If you were a casino game you'd be the best odds."
When Reiser told Rogen of his diagnosis however, it was not so light-hearted - although Rogen was sitting on the toilet at the time.
Awkward humour
"In real life that conversation was not very funny and was more brief," Rogen says.
"Even though I was on the toilet, it was a much more serious, which made it more absurd in retrospect."
The actor says Kyle's attitude to Adam's cancer in the film was similar to his own at the time.
"Kyle doesn't know how to talk about it seriously, so he just makes jokes about it - we didn't want to talk about how we actually felt," he says.
Reiser adds: "We didn't know how to. When you're in your early 20s you don't talk about your feelings - at least guys don't - so we used humour."
Hollywood can often be melodramatic about cancer, with any comedy element falling somewhat flat.
Previous efforts have included 2009's Funny People, also starring Rogen and Adam Sandler, and 2007 film The Bucket List, starring Jack Nicholson and Morgan Freeman.
Reiser's brave approach would ordinarily have been a hard-sell. The writer believes the project may not have got off the ground had not had cancer himself, nor would he have even considered writing a script about it.
"I don't think that it would have been as accepted had I not gone through a similar experience," he says.
"I don't think studios would have cared at all," adds Rogen. "We wouldn't have been able to make the movie in our way had we not actually experienced it."
The label "cancer comedy" probably mis-sells 50/50 as it is also a poignant drama - with Gordon-Levitt's performance, sometimes heartbreakingly so - but it can be laugh-out loud hilarious.
The main challenge was to make it funny without being flippant or offending anyone - and for Reiser, it was important to strike the right balance.
"It was all about making it feel real and honest," he says. "The humour and drama all feel organic and I never let it go too far in either direction."
So, on the one hand you have Kyle encouraging Adam to exploit his illness to get girls to sleep with him, and on the other you see Adam endure his surgery and treatment.
The film has been received well by critics and has even prompted some awards buzz for Gordon-Levitt, Rogen and Reiser - although the latter two say they have no acceptance speeches prepared.
More importantly, it has also been met positively by those who have had experience of cancer themselves.
"It was so personal to us, we didn't know how representative this tone was," Rogen says.
"But it seems like many people are thankful and strong enough, even in the face of their own mortality, to have a sense of humour - and a lot of movies ignore that."
50/50 is in cinemas now.