Sculptor's £100k Olympic gold coin revealed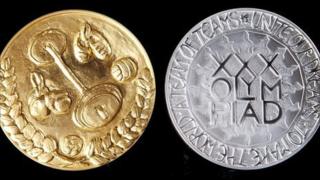 A gold coin commemorating London's 2012 Olympics, designed by eminent sculptor Sir Anthony Caro, has been revealed by the Royal Mint at London's Royal Academy of Art.
The UK's first Kilo coin - one of just 60 to be produced - is worth £100,000 as it contains 1kg of fine gold.
A silver Kilo worth £3,000 designed by artist, composer and writer Tom Phillips was also revealed.
Both coins are UK legal tender and 2,012 silver Kilos will be produced.
The Queen personally approved both designs in order for them to become legal tender.
The obverse of the coins features her effigy, created by sculptor Ian Rank-Broadley, whose design of Her Majesty appears on all UK and Commonwealth coinage since 1998.
Sir Anthony Caro's design represents how the Games focus on success and pushing the body and mind to their limits as well as the long heritage of the Olympics. His coin is framed by a laurel wreath and the London 2012 logo, and depicts the sports equipment used for weightlifting, boxing, football and athletics.
During the manufacturing of the gold Kilo, a special press and production technique was used to achieve the highest ever relief on a coin struck by the Royal Mint. However because of its worth and size, it is unlikely to go into circulation.
The silver Kilo design focuses on the idea of teams working in unison to achieve success and victory, featuring the words "Unite our dreams to make the world a team of teams". It also has images of celebratory flags creating a sun for the Games while also representing the Olympic flame.
Both coins are accompanied by individually numbered Certificates of Authenticity. Sir Anthony Caro has personally signed and numbered the certificates for each gold Kilo coin.
Sir Anthony's works have played a key role in the development of contemporary sculpture. He was knighted in 1987 and was the first British sculptor since Henry Moore to receive the Order of Merit in 2000. The Metropolitan Museum of Art in New York recently featured a major exhibition of his works.
Phillips's works are displayed in some of the world's most prominent galleries, including London's Tate and the National Portrait Gallery.